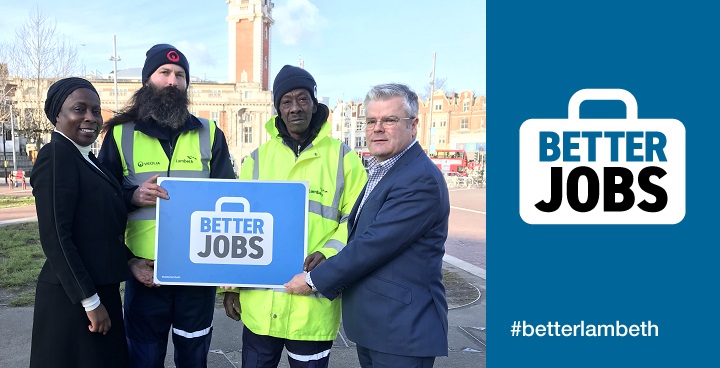 The pay rate will mean staff in Lambeth will get a minimum of £10.20 an hour from April. The decision will affect around 160 Veolia staff, 45 per cent of whom live in Lambeth.
The voluntary London Living Wage is based on the principle that workers should earn a living to provide for themselves and their families.
Workers who are paid the Living Wage are more financially secure – they are more able to pay rent, buy food and pay taxes – as it's designed to better reflect the cost of living.
Lambeth Council's own staff already receive the Living Wage at minimum, as do people on 99 per cent of council contracts.
Word from the Cabinet
Councillor Jennifer Brathwaite, Cabinet Member for Housing and Environment, said: "We have been working to make this happen, and I'm delighted that staff on this contract will be paid the London Living Wage.
"We know how important receiving the London Living Wage can be, especially for those who struggle on low incomes. Better pay can make a real difference for them and their families."
Previous successes include getting all 30 of the council's adult social care providers paying the wage to their 2,217 employees, three-quarters of whom live in Lambeth.
Living Wage Friendly Funders scheme
The council also supports the Living Wage Friendly Funders scheme which encourages and supporting recipients of grants to pay the Living Wage. The Living Wage Friendly Funder scheme has been funded by People's Health Trust and developed in collaboration with a range of funders including Trust for London, Barrow Cadbury and Comic Relief.
Veolia employee Lucas Rola, 40, who has been street sweeper in Lambeth for eight years, said: "It will be great to get the London Living Wage. Financially life can be a struggle, London is an expensive place to live so this will really make a difference."
Lambeth council first became a London Living Wage employer in 2012, and backs the rate to help reduce inequality. There are also 65 registered London Living Wage employers in the borough.