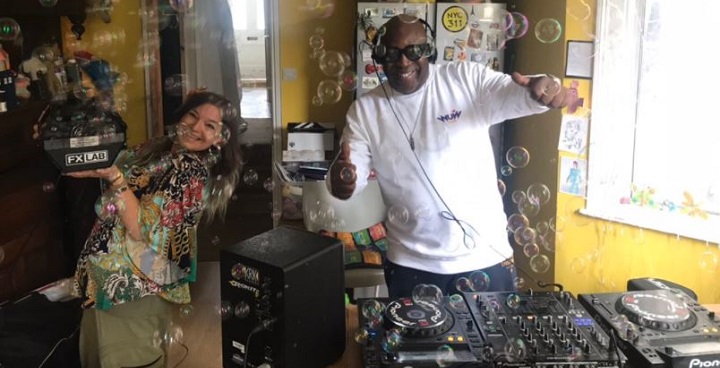 The Virtual Lambeth Country Show will be taking place this weekend – Saturday 17 and Sunday 18 July. It promises to be a spectacle of entertainment filled to the brim with family fun. We have selected a few zones and acts to highlight the flavour of the event and will give you an idea of what to expect and get involved with.
Arts & Culture
We have an array of local talent performing across the weekend including E Squad who will be providing us with a street dance performance. The South London Theatre will be hosting a virtual tour of their theatre, based at the Old Fire Station in West Norwood. The Theatre was founded in 1967 and has been thriving ever since.
We also have Joy of Sound who will be hosting social inclusion workshops on both days for all ages, as well as content from Black Cultural Archives and The Boury Academy.
Discovery
We are pleased to welcome back our Discovery partners to this year's virtual event, including the . Built in 1816, it is London's last working Windmill.  Returning once again is British Society for Immunology, one of the oldest, largest and most active immunology societies in the world and largest in Europe. An LCS firm favourite, The Chocolate Museum, a unique a place in Brixton to learn about… Chocolate!
We also welcome back Immersive Experiences who will be providing interactive astronomy learning and fun. Advance registration required.
Adrian Stone will also be joining us offering his "Tracing Your Windrush Roots" workshops. Adrian is one of the top Caribbean genealogists in the UK and will be available on both days to help you discover your roots and relatives covering a timeline of over 250 years. Advance registrations also required.
The Farm
Enjoy a tour round Vauxhall City Farm, one of the oldest and most central city farms in London.  We will also have a great virtual tour with our friends "CJ's Birds of Prey" who have become one of the most popular and professional Birds of Prey Display Teams in the UK.
The Farmyard Circus will also be joining us, inspired by summer days on the farm and getting dirt in all the right places, using heart-warming songs, wheelbarrow acrobatics, and a bucket load of stunts, they tell stories of working hard but playing harder.
Flower Show
Run in conjunction with the Lambeth Horticultural Society the infamous Flower show is back in bloom.  There will be 20 different classes including Flower and pot plant exhibits, Fruit and vegetables exhibits, Floral art exhibits, Children's exhibits, Domestic exhibits and Handicraft exhibits. Not forgetting the highly anticipated Vegetable Sculpture Competition, Recycled Garden and Scarecrow Competitions. You will be able to vote for the winner online during the weekend.
Lambeth Services
Offering a range of free services in the Borough, we are pleased to have included many services in this year's virtual show. Featuring Lambeth Links, a forum for one of the largest LGBTQ+ Communities in the UK, for times of need and times of celebration. Or have you ever thought about what would be most important to you as you reach the end of life? 'Before I Die…' at LCS offers people a chance to contemplate death, reflect on their lives and consider the things that matter most.  We also welcome Lambeth SEND Local offer, Lambeth Music Service and many more.
Literature Village
For an array of talented groups, performers, poets, storytelling and spoken word, you can visit our virtual Literature Village featuring many marvellous local creatives. Join The Art Society's virtual journey  in the footsteps of Phileas Fogg and explore 24 destinations over 80 days – from wherever you are. Enjoy the arts from around the globe. No steamer, railway or elephant required.
The Chocolate Poetry Club: Originating from South London and made up of writers, readers and chocolate eaters, CPC is "ReStorying" the world.
Country Show regulars Poetic Unity – a Brixton-based charity that provides support and services for young people across the UK will also be joining Virtual LCS. Their vision is to give young people a voice and to empower them to reach their highest potential.
Main Stage
Award winning Big Fish Little Fish is the original family rave and started in Brixton 2013. They have played to a million people all over the UK, Ireland and Australia. For the Virtual Lambeth Country Show the sets are from BFLF Founder Hannah Saunders' own kitchen in Brixton and feature original junglist legend DJ Jumpin Jack Frost and acid house original DJ Lol Hammond (Drum Club) – South Londoners one and all! Expect bangin' tunes, bubbles and a good time beamed straight to your house. Together on the (kitchen) dancefloor!
We also have performances in our Virtual Musical Jam Garden. This includes CHOZE an innovative ambitious Brixton talent with a new album released this week. Megumi Mesaku (missmegoo), South London resident, and veteran performer for LCS over the past 15 years. Unique and amazing in her musical abilities playing reggae/jazz/ska on her sax.
Teshay Makeda also joins accompanied by James Shepard on guitar. Teshay last performed at LCS in 2017 and is a divinely gifted Empress of Roots Soul.
As well as Lucy Randell – Previous performer at LCS main stage with beautiful jazz soul vocals.
Village Green
We are lucky to have a wonderful bunch of talented performers and groups within Lambeth who will be making up our village Green lineup.
We have local singer ALMAZ joining, as well as Tuneless Choir, the Sarah L. King Quintet and Lambeth Wind Orchestra.
Listings
Visit the virtual event page for full listings released in the coming days.