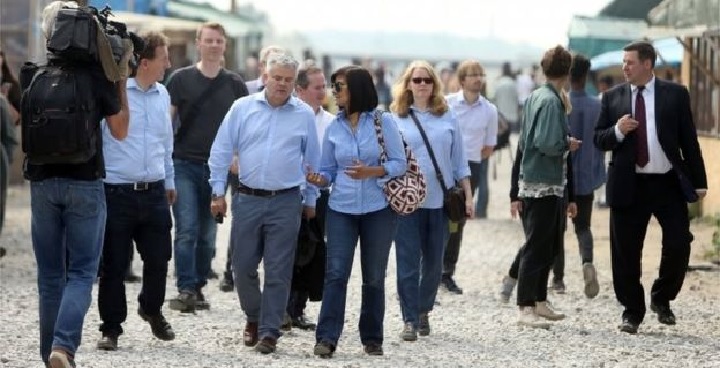 Since the deepening of the refugee crisis last summer, when so many people were shocked and saddened by the desperate images on their TV screens of refugees fleeing Syria into Europe, we have led the calls for the Government to do more to welcome refugees and provide a safe haven for those fleeing terrible conflict.
We lobbied the government to increase the number of refugee families that they would take (which they thankfully did). We pledged to take 20 refugee families over the next couple of years (and several have already arrived). We've worked with government, organisations like South London Citizens and local community groups to provide a safe and welcoming refuge for the families. And we called on government to end its refusal to take unaccompanied children from Europe (a campaign led by Lord Alf Dubs), which they finally did in May.
I'm proud of the work that Lambeth has done on this issue, but all the meetings, briefings and even meeting newly arrived families cannot prepare you for the very human crisis on the UK's doorstep, as I saw at the Calais refugee camp last Thursday.
The visit was with a group of mostly London Councillors as part of a LGA delegation organised by CitizensUK and their operation at Calais called Safe Passage. I was with Councillor Stephen Cowen, Labour Leader of Hammersmith & Fulham Council, and Councillor Julian Bell, Labour Leader of Ealing Council.
Visiting the camp really brings home the reality of the situation that many refugees find themselves in. We were driven out of Calais, down some dusty roads, past 'Banksy's' mural ('London calling') and then past armed French Police looking very suspiciously at us, but not daring to enter the camp itself. As we walked down what is known as the 'Camp High Street', most people looked curiously at us, but as we were a group so some greeted us and said 'hello', some didn't and some looked annoyed at being a spectacle, again. Everyone says it's safe during the day time – but becomes a very unsafe place at night.
It was about midday and many of the refugees were just getting up, having tried until the early hours of the morning to get onto lorries illegally to travel to England. Some men had clearly sustained injuries while trying, but only had rudimentary bandages or treatment as there is no access to medical or hospital treatment for refugees.
With ever increasing numbers of refugees, coming and going amid the rows of tents and ramshackle 'buildings', the Camp has become a 'shanty town' with people doing what people always do – setting up shops, cafes or places to eat or community spaces to allow them to socialise and survive. Many of the makeshift buildings have been turned into cafes and places selling food of all kinds. Most of these had been forcefully closed down in the last week or so by the French authorities, citing health and safety concerns, leaving most of the inhabitants with nowhere to eat. Most men looked tired and in need of a shower – there are only makeshift sanitation and communal washing facilities at the Camp.
We had Chi in Awesome's café (run by a Pakistani man who was keen to tell us his given name was Awesome!). He was hospitable, friendly and chatty – humbling when you realise he and the others in the camp have virtually nothing, have no rights and are 'stateless' human beings.
We were then taken to meet a group of about twenty unaccompanied asylum seeking children, all boys. The youngest was 9 who looked ill and stressed, who held one hand under his shoulder – asked through an interpreter what he wanted he looked puzzled and said to us councillors he wanted 'a proper bed to sleep in and somewhere to be safe'.
It was enough to make a grown man cry with shame
There were other children – some who spoke a bit of English – who made it clear they looked out for each other in the camp, but they also behaved just like normal kids who were curious as to who we were and how could we help them? They talked about wanting to play cricket or driving a car or playing with their mobile phones, if they have one. I asked some of them about their journey to Calais and how long they had been there? One lad calmly said he had travelled through 7 countries having fled Pakistan to avoid the Taliban 18 months ago. The time spent at the Camp varied from 20 days to 18 months. We talked about the lack of schooling at the Camp – the reality being they are sleeping in the day while trying to get to England at night. We did learn there are some French and British charities who run language and other school classes. But these are clearly voluntary and not state education. So on top of being at risk as children, with no family or adult legally responsible for them, the Camp has many school age children who are missing out on a formal education that will inevitably and could permanently damage their life changes.
Some of the translated conversations did get more pointed and angry. Politely translated, it was clear many of these boys have been there a long time and have meet many well-meaning visitors to the Camp, all who show concern and say they will help, but then go and nothing changes. We three Labour councillors did do the best we could to say that 'town governments' like ours in London and across Britain are ready to help find a home and family for them to live with, to be safe and get on with their life and go to school. I am not sure they were convinced, and given the intransigence of the French and UK Governments, we had to be honest and say we would do the best we could.
While we left with a sense of gratitude and praise for the workers from organisations like Safe Passage, the overwhelming sense was of shame and sadness. This should not be happening in 2016 on our doorstep.