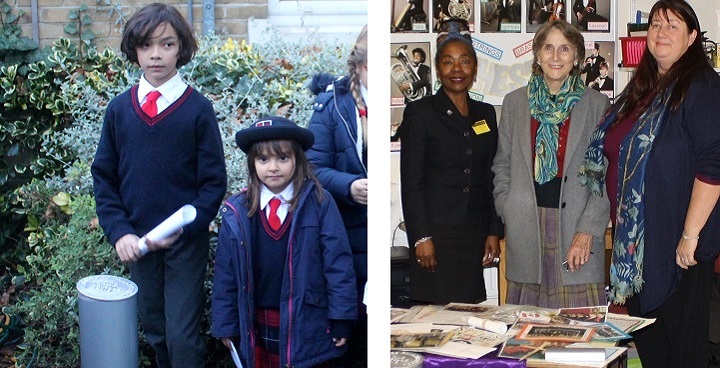 On Tuesday December 4, St Mary's School, Clapham, buried a time capsule to mark the centenary of Women's Suffrage.
Time capsule for 2118
Each class in the school nominated items to place in the capsule representative of the position of girls and women today. Items included a photograph of the St Mary's Girls' Football team and a copy of the Private Members' Bill on renter's rights successfully passed by local female peer Olly Grender. The capsule is designed to be opened in 100 years.
Learning women's rights
As part of the preparations, children learnt more about the campaign for women's suffrage and the changes to women's rights in the century since. St Mary's pupils also considered how they can all – boys and girls – play a part in achieving full equality in their lifetimes.
Blue plaques
The school ran a special Time Capsule Competition for children to identify blue plaques on the homes of famous women locally – Victorian actress Dorothy Dene and music hall star Marie Kendall. Winners brother and sister Freddie and Annie Mushrafi won the chance to place an item into the capsule.
 Campaign for more blue plaques
After the competition, pupils were disappointed at the lack of local plaques celebrating women. They wrote to English Heritage in support of blue plaques for two more important local women:
Dr Annie McCall of Clapham Park Road, who greatly reduced mortality rates in Lambeth for women and babies when she established the first all-women maternity unit.
Suffragette Emily Davison, who stayed on Clapham Park Road the night before the 1913 Derby where she walked onto the track and died after being hit by King George V's horse.
English Heritage have already agreed to consider the case for Dr McCall.
Word from the Cabinet
Cllr Winifred, Cabinet Member for Equalities and Culture was a special guest at the school's time capsule event. She said: 'It's inspiring to see both girls and boys planning how to achieve equality long before their time capsule is opened, and to hear how they have been inspired by the history of women's rights to push for more blue plaques in recognition of what women in Lambeth have achieved.'