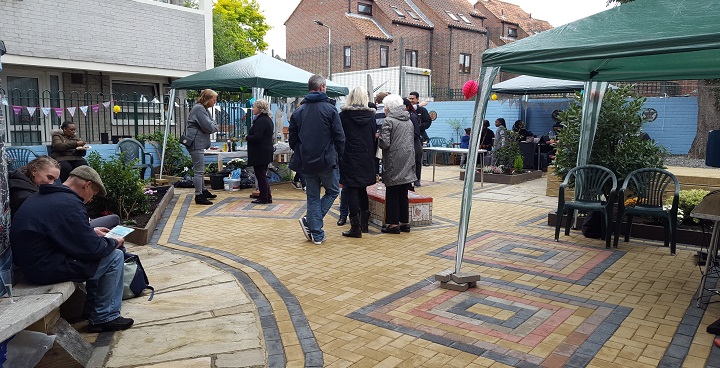 "The garden wasn't very appealing with just stones and weeds in the middle. Once, people  had said they wanted to plant there – but it hadn't been kept up.
Blocks and decks
"I presented a choice of solutions for a lower-maintenance garden at a residents meeting. They overwhelmingly chose updated block paving and decking to create a garden for all ages, rather than astroturf for a games area. They pretty much gave me a free hand to design and build it. I had plenty of time to perfect it while we got the funding sorted out.
Months of work
"I was working on it all summer in between the building jobs I do for a living . I built four new raised beds from scratch. The end result looks even better than we imagined and lots of people came along to look at the work in progress and said "You're doing a terrific job". It was good to get it done by autumn, but the real test will be in spring – when the flowers come back, so will the people.
Launch party
"The ward councillors and the Deputy Mayor came to the launch event and people agreed that a total revamp made the estate look invested in and cared about. I want the next garden party to be in summer when the plants are at their best.
Space for the future
"The idea is to make it a location for community events. The real measure of success will be people coming together in their garden, and it becoming a social space, a community space for the estate. And if they want to help me with the weeding and watering that's fine too!"
---
For more information
If you're interested in starting or reviving a community garden, please contact the Council's Housing management Resident Engagement Team. Email gettinginvolved@lambeth.gov.uk
If you'd like to start or revive a Tenants & Residents Association on your estate or street, please contact the Resident Engagement Officer for your area: