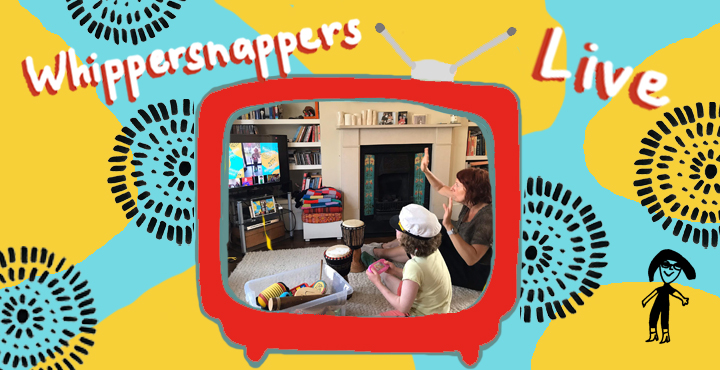 Whippersnappers – based at Herne Hill's Brockwell Lido – are a community arts organisation delivering music, art and theatre projects London wide. Founded in 1994, Whippersnappers were commissioned by Lambeth Council in 2009 to deliver holiday playschemes and after-school clubs for 5-to-18-year olds with disabilities. We employ creative artists and performers alongside SEN school TA's to support and entertain children safely.
Supporting remotely
In March 2020, Lambeth's Children with Disabilities Team asked us to respond to Covid 19, changing our childcare offer into supporting children remotely. There was no time to waste  – some families had already been self isolating for over two weeks and things weren't getting any better.
Sensory needs
The question was how to engage an audience with such a wide range of ages, different sensory needs and often very short attention spans?  "Familiarity" seemed important – familiar faces, voices, activities, settings and happy archived Whippersnapper footage. Who in the team would edit film? Could performers film themselves at home? Caroline was stuck in Ghana, the office was closed but the ideas were flowing. We put together a team of seven and started with a few short videos while researching how to create a live entertainment platform.
Four live shows weekly
We sent emails to families and made phone calls to parents to help them log onto zoom. We filmed ourselves on our phones and sent hours of whatsapp footage to our editor for engaging videos to capture the attention of our  children. Four weeks later we're delivering four live shows weekly for different age groups: 0 – 5,: 5 – 11 and Teenagers. It's talent shows, art exhibitions, funny comedy sketches and film collages of the children having fun at the playscheme.
Family trips
Feedback has been great – some young people tuning in three times a week and watching repeats online  But it's important to acknowledge that some children and young people's individual needs mean they're unable to engage in our Whippersnapper Live sessions. So Whippersnappers are working towards offering
safe, risk-assessed single family trips on our party bus.  We will definitely keep producing live remote entertainment alongside our real life, hands on, lets all get involved and have some fun Playschemes.
Find Whippersnappers online