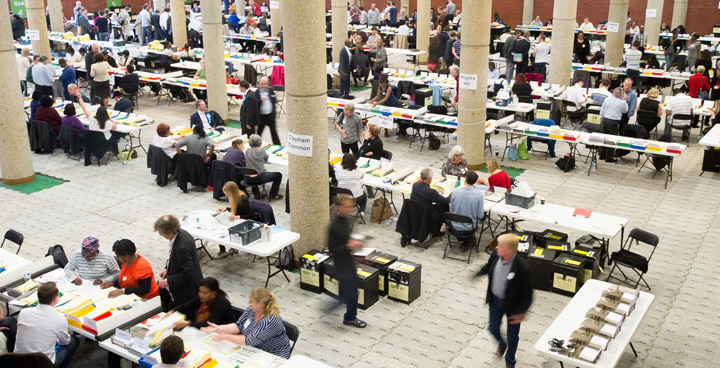 Labour now hold 59 out of 63 seats, with three Conservatives and one Green Councillor. The turnout was 34.5%.
London Councils' website has an interactive map showing the results across London. Find out about Lambeth ward-level results and access the manifesto on which the Labour Group have been elected.
Cabinet roles
The cabinet is made up ten elected Labour councillors and they have overall responsibility for running the council, providing the organisation with direction, working out the budget and guiding Lambeth's senior officers. The new cabinet has been announced as follows:
• Leader of the Council, Cllr Lib Peck
• Deputy Leader (Policy Delivery), Cllr Imogen Walker
• Deputy Leader (Finance & Investment), Cllr Paul McGlone
• Cabinet Member for Children & Adult Services, Cllr Jackie Meldrum
• Cabinet Member for Environment & Sustainability, Cllr Jenny Brathwaite
• Cabinet Member for Families, Cllr Rachel Heywood
• Cabinet Member for Health & Wellbeing, Cllr Jim Dickson
• Cabinet Member for Housing, Cllr Matthew Bennett
• Cabinet Member for Jobs & Growth, Cllr Jack Hopkins
• Cabinet Member for Neighbourhoods, Cllr Jane Edbrooke
Find out about the responsibilities for each cabinet role.
The cabinet has been tasked with meeting the administration's commitment to being ambitious for everyone and to guarantee fairness for all, and to support its priorities which are making our communities safer and stronger, getting more jobs and investment for Lambeth and making sure our neighbourhoods are cleaner and greener.
Cllr Peck said: "We have re-modelled the cabinet to match our cooperative council way of working, and we are now all really keen to get on with the job.
"We have a very strong, keen and committed new team that are ready to work hard for their local communities, and to fulfil the promise we made going into the election: to be fair to everyone and ambitious for all.
"There are serious challenges to face, not least of all the huge cuts to our budget being imposed by the Government. But we are determined to do what we can and continue helping support those in need and backing people as they strive to reach their goals in life."
Your ward councillor
Visit the Lambeth Council website to find out who your ward councillor is and their contact details, information about their surgeries will also be published here.