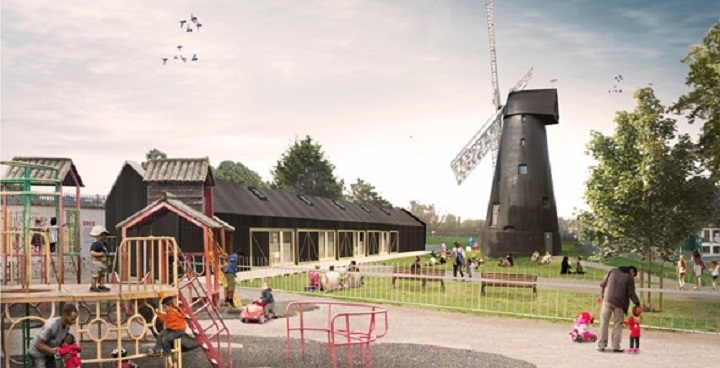 In mid-November large metal hoardings were erected around Brixton Windmill, one of Lambeth's best-loved landmarks. Building work has begun on a new education centre next to the 200-year-old Grade II* listed windmill. The centre is the culmination of a campaign by the Friends of Windmill Gardens, a local charity set up in 2003 when the Windmill was in a sorry state of neglect and on the Buildings at Risk Register.
Restoring Brixton Windmill
After the Friends submitted a joint funding bid with Lambeth Council, the Heritage Lottery Fund awarded almost £400,000 towards restoring this unique building. This was combined with match funding from the Council and money raised by the Friends. Seven months' restoration work began in October 2010. The windmill was completely overhauled by specialists.
Milling
At the end of 2014 volunteers started milling flour again, using the restored modular mill. The Friends now regularly supply six local retailers and the Old Post Office Bakery. They have also collaborated with the Friends of Ruskin Park and Brockwell Bake to plant heritage wheat, ground into flour at Brixton Windmill.
Festivals and flour
The Friends run free tours of the windmill one weekend a month between April and October, as well as popular Beer and Bread Festivals, Harvest Festivals, and Art in the Park. They organise regular workshops, teaching schoolchildren about flour, baking and bread.
New education centre
In November 2015, the Friends campaigned to build an education centre in Windmill Gardens. Award-winning architects Squire & Partners offered to design the centre for free, and Lambeth Council agreed to fund its construction, with the Friends taking on responsibility for running and maintaining it on completion, now expected April 2019.
Crowdfunding
In 2018 the Friends ran a successful crowdfunding campaign to raise money towards kitting out the centre once it is built. They exceeded their initial target of £12,000 by more than £3,000, with Crowdfund Lambeth providing £1,250 when they successfully hit their goal.
Get involved!
The Friends have been phenomenally successful in helping to preserve and raise the profile of a unique part of Lambeth's heritage. Why not get involved?