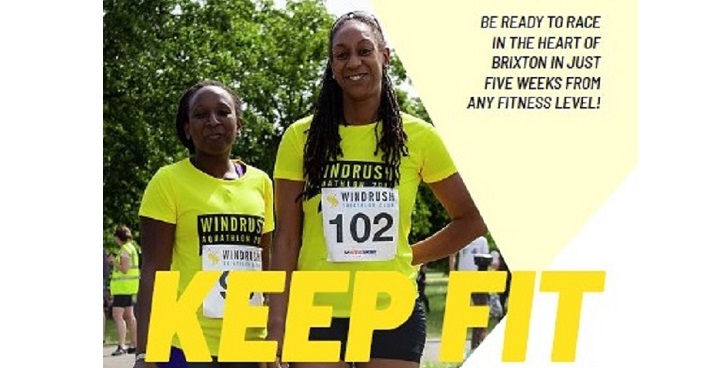 Windrush Triathlon club are a local Brixton triathlon club and regularly support Team Lambeth in the London Youth Games with training sessions. Now, they've come up with a special training programme to get people at any level of fitness ready for a big event in just a month.
Local event
The Windrush Aquathlon is a 200m swim immediately followed by a 2.5k run. It's an annual local event that has been going for 9 years in the beautiful surroundings of Brockwell Park and Lido  This year, it takes place on Sunday 30 June 2019 – and you could be in it!
What is TriFit?
Gesine Junker  from Windrush Tri club says: "We're an easy-going, very friendly and welcoming club who help our members tackle the three triathlon sports – swimming, cycling and running.  We have an increasing and diverse membership. However, we're really aware that, compared to the local population, the club is under-representative of both women and people from Black, Asian or Minority Ethnic communities. So we've want to show the local community that triathlon is for everyone, and invite more people to give it a go.
Try it out Triathlon
"We've developed a 'Try it out' programme called Tri Fit Brixton, which aims to address the perception of the sport, and open up the club to a wider range of people."
What's on offer?
5 weeks to go from ANY existing experience level (including 'no experience') to being race ready!
3 different types of sports: run, swim and circuits
Locally run by fully qualified coaches
Only £20 which works out as £2 per session (cheaper than any gym class)!
2 sessions per week
No previous experience needed!
Tri Fit Brixton starts on June 1, so sign up a.s.a.p.The race entry is sponsored by local company Barclay Architects. On completing the race, you will receive a medal, swim cap and event T shirt, plus delicious home made cake!
More information