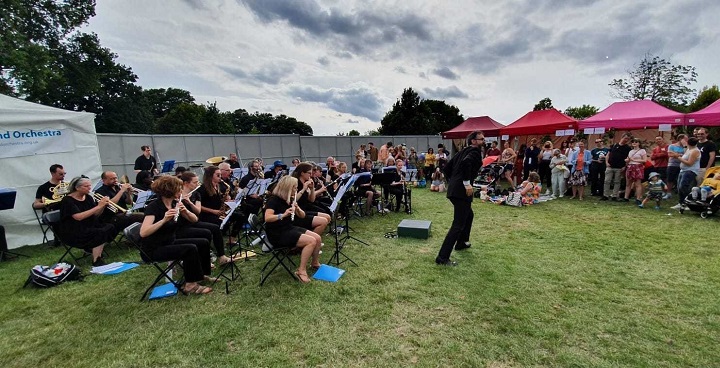 Lambeth Wind Orchestra is an amateur concert band, rehearsing weekly in Herne Hill.  Our mission is to bring the joy of music into people's lives.  Our members come from all walks of life and all ages. Some learned their instruments as children; others began as adults; many describe themselves as 'rusty' when they join and others are so versatile that they play three or four instruments.
Ensemble
There are huge benefits to playing in an ensemble like this: it's a chance to socialise and make new friends, to switch off from the pressures of work and family and immerse yourself in something completely absorbing for a few hours.  It's also an opportunity to build new skills and contribute to the community.  And being part of a team with a common goal – the performance of a great piece of music – can make you feel on top of the world!
Music going through their heads
The music we perform is quite wide-ranging.  It includes classical, pop, film music, musical theatre and contemporary.  People always leave rehearsals smiling, with great music going through their heads!  Above all we just like to get out and play, because it brings pleasure to us and our audiences.
Performances this year
So far this year we've performed on some fantastic bandstands around London, including Clapham Common.  One favourite moment was Lambeth Country Show, where we had the crowd on their feet dancing to YMCA! Our autumn concert featured brilliant young saxophonist Rob Burton, finalist in BBC Young Musician of the Year 2018.  It's exciting to perform with someone so talented, right at the start of his career.  The National Concert Band Festival in November, which stretched us to play a couple of pieces at our absolute best, was judged by a panel of experts.
Busking for charity
To end the year we'll be busking at Waterloo Station to raise money for charity.  This year we're supporting London Music Masters, which provides free instrumental tuition in schools in Lambeth (and other parts of London) … and we'll be putting on a Concert of Christmas music in Herne Hill and providing an ensemble for a Carol Service at a local church.  Never a dull moment!
For more information
To find out when and where Lambeth Wind Orchestra are performing, or if you're interested in playing, email the Chair