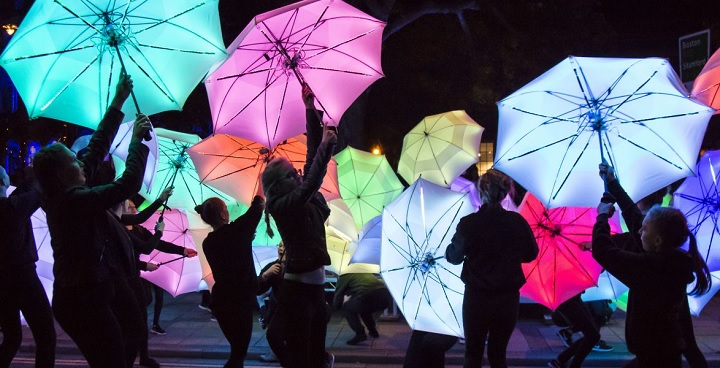 Winter Trails is a festival of events and activities in Nine Elms between 18 November and 21 December 2017.
Nine Elms regeneration
Nine Elms has always been a critical part of London's landscape. Its past is commerce and industry, its future is enterprise, art, culture and living. The area is being regenerated by two borough councils working together: Wandsworth and Lambeth.
Get the map and explore
To navigate the events, you can use a new map of the area layered with the different strands of the festival – movement, sound, words & stories, film, illumination & installations – as different lenses through which you can explore the neighbourhood and get under the skin of the changing area.
Events include:
BATTERSEA POWER STATION WINTER FESTIVAL 30 November – 21 December Xmas shopping pop-up
ILLUMINATED TREES 1 Dec: lighting trees in Savona, Patmore and Carey Gardens with lanterns created as part of the Edible Avenue SW8 project.
MEET ME BY THE BALLOONS 1 to 21 December. A trail of colourful LED balloons along the river
WINTER UNION 16 December: Parkour demonstrations and free 30-minute workshops
CIRQUE BIJOU 7 December :Procession with local people and rainbow LED umbrellas.
DIY MUSIC CONCERT 10 December: improvise with Cactus Band on 'found' instruments like household objects and toys.
BATTERSEA POWER STATION COMMUNITY CHOIR 7 December: Songs and carols.
OPENCITY NINE ELMS 16 December: Immersive soundwalk.
100 YEARS FROM NOW 10 December William Morris' novel News From Nowhere imagines his social, political and artistic ideals coming true on the banks of the Thames. Book your place to do the same.
DARK WATERS: MIDWINTER STORYTELLING WALK 21 December: magical night expedition with tales of the Thames to warm your heart and chill your blood.
FILMS AT STUDIO RCA RIVERLIGHT until 21 December – including 'Thames Film'(narrated by John Hurt) and light painting workshops.
---
For more information
More information about all the events listed in the Winter Trails guide, including start times and addresses, can also be found at the Winter Trails information pages. All activities are free, but some need advance online booking and age restrictions apply – under 16s must be accompanied by an adult at all events.