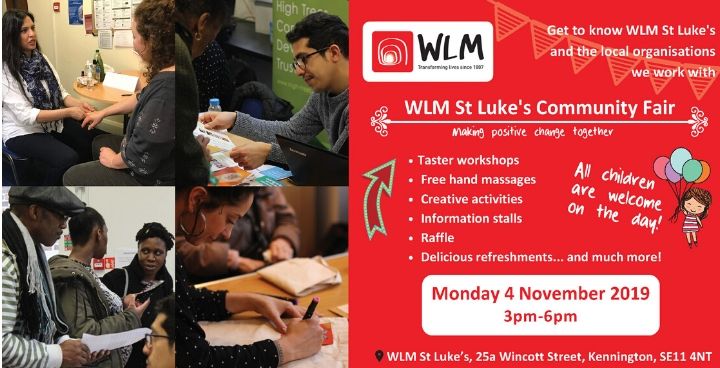 WLM St Luke's is a service provided by WLM (West London Mission) and is a valued community resource for residents in Kennington and surrounding Lambeth communities. Promoting financial and digital inclusion to support people to build skills and confidence in tackling problems with benefits, budgeting, debt and IT.
The 10x better challenge
Following the recent refurbishment of our residential space, we now have several new rooms for community use and hire. We are welcoming your suggestions for how these can be used, as well as offers of involvement in the wider running of WLM St Luke's Hub.
Our WLM St Luke's team are now halfway through a 10-week challenge to consult with local residents, businesses and organisations to form a plan for how to make WLM St Luke's even better for the local communities we are part of. We have been visiting lots of other services to gain ideas and build new links, as well as reviewing our accessibility, starting a weekly community dinner and planning a Community Fair for November.
Claudette's story
Claudette was struggling to make ends meet. Her monthly bills almost always exceeded her income and she didn't feel in control of her spending. Money caused her a lot of stress and worry.
With the help of our Money Coaching service, Claudette switched to cheaper gas, electricity and mobile suppliers. She successfully applied for the Warm Home Discount and discounted water bills. She started keeping a spending diary, using shopping lists and being more mindful of her energy use.
Claudette said:
" I now go shopping without panic attacks and with less anxieties. I sleep peacefully not worrying about running out of gas… I am saving more than half of what I was spending… Fiona's help gave me back my independence and a good healthy lifestyle."
She also attended our Digi buddy sessions to become more confident in using a computer and soon hopes to save more money by managing her bills online.
---
Please share your views and help us improve our services/use of space by completing our short survey St Luke's 10x challenge survey.
Community Fair at WLM St Luke's – November
Join us on Monday 4 November from 3pm – 6pm for our community fair – a fun event for everyone. With help from our brilliant volunteers and partners, there will be taster workshops, free hand massages, creative activities, information stalls from various organisations, refreshments and a raffle with fantastic prizes!
There will be an opportunity to see our newly refurbished rooms and speak with staff about any ideas you have. We look forward to seeing you there.
Location: WLM St Luke's, 25a Wincott Street, Kennington, SE11 4NT.
---
Check us out at www.wlm.org.uk and kindly follow WLM on Twitter, Facebook and Instagram to find out more on how we help people affected by homelessness, poverty and trauma to live more fulfilling lives!