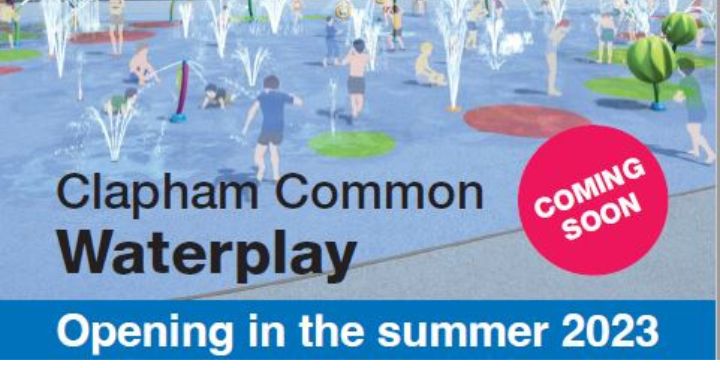 Lambeth Council is starting work this month on a state-of-the-art waterplay facility as part of a £1million investment that will see the replacement of Clapham Common paddling pool, which has been a popular destination since the 1950s but is no longer functional.
The new splashpad will feature a range of multi-function water jets to provide a sensory experience for children of all ages, as well as fully accessible and child-friendly toilets, cycle parking, and parking for family cargo bikes.
Clapham Common masterplan
The new facility is part of the nearly £1million investment in various improvements around the Common that are being delivered as part of the Clapham Common Masterplan objectives for 2020-2025. The waterplay facility is one of the main community priorities identified in the masterplan, and it is expected to open in the summer of 2023, just in time for the summer holidays.
Cllr Rezina Chowdhury, Cabinet Member for Sustainable Lambeth & Clean Air, said:
"This new waterplay facility is an exciting addition to Clapham Common and an example of Lambeth Council's commitment to investing in sustainable, community-focused initiatives. We're delighted that this project will provide accessible and inclusive water play for children of all abilities, as well as an opportunity for families and visitors to come together and enjoy the green spaces of the borough."
Simon Millson, Chair of the Clapham Common MAC, the community group working with Lambeth Council to develop the waterplay, said:
"Over the years, many people who grew up in Clapham will have fond memories of splashing about in the old paddling pool. It is time however to replace the disused paddling pool with a modern and exciting new waterplay – one which young people can enjoy for many years to come and create new childhood memories."
The waterplay facility will be fully accessible to all children, including those with physical, developmental and sensory disabilities. It will provide a rest and active play space for children and their parents or carers to enjoy and connect, with positive health outcomes, particularly for inner-city children from low-income families who may not otherwise have an opportunity to enjoy a sensory water experience during the warm summer months and over the summer holidays. The new facility will also provide opportunities for local businesses by increasing footfall in this part of Clapham Common.
The waterplay will feature an environmentally considerate and energy-efficient re-circulating water system to power the jet network. The design was selected in response to community needs and priorities and constitutes an efficient and creative use of the existing disused paddling pool space to provide an enjoyable rest and play area for children and their parents or carers, ensuring full accessibility throughout.
We are excited to see this new facility come to life on Clapham Common and look forward to welcoming families from near and far to enjoy this exciting new feature. Stay tuned for more updates on the progress of the works and the official opening date in the summer of 2023.