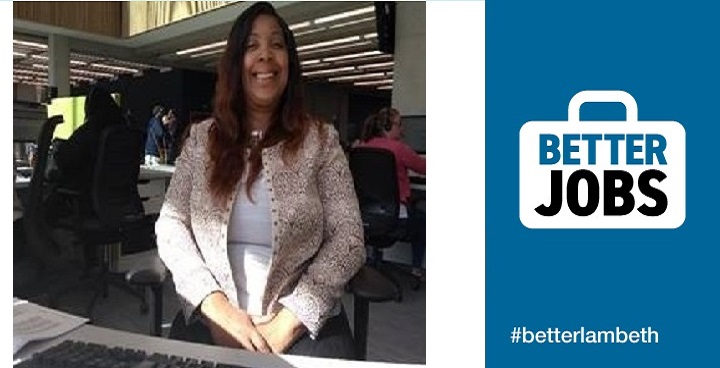 Workwise – the partnership between St Mungo's homelessness charity and Lambeth Housing Management – supports tenants who risk losing their home through welfare reform. 1-2-1 support equips people with knowledge and confidence to find work and manage income gaps linked to benefits or Universal Credit.
Annual achievements
Workwise's third year in Lambeth (2017-18) helped:
• 68 tenants find full-time work, 22 part-time work, and 13 volunteering positions
• 13 work placements & 53 places on education/training courses
• 30 qualifications gained (more expected)
• 90 households improve their income
Angela's story
Angela has now worked in Lambeth Council's Central Income team for two-and-a-half years. She believes Workwise's support was an essential part of getting her back into work and out of debt.
Stress
"I was a senior support worker working with challenging teenagers in residential care. I could only get work outside London which was very stressful, and one day I just came back home. I thought with my experience and qualifications I'd get agency work easily – but I didn't have a DBS check. I couldn't find work and got into rent arrears because of 'Bedroom Tax.' I saw a sign for Workwise and asked  to be referred.
Confidence building
"What they're good at is taking away excuses – like the excuse of having nothing to wear for an interview – they contacted a charity that provides an interview suit and bag so you feel confident you're making the right impression. They paid fares, taking away the travel excuses. They have an expert look over your CV and job applications. Best of all, they're never judgemental. I was feeling very vulnerable about not working.
Skill sets
"Working in Lambeth feels much less stressful because it's closer to home. As a result of this work, I've learned about income and finance and I'm looking to go back to advocacy work with additional skills.  I've seen people come to Workwise with all different – such as catering, or painting and decorating – and I think they can help everyone."
---
For more information
For more about St Mungo's and their work of ending homelessness and rebuilding lives, see their news and information pages