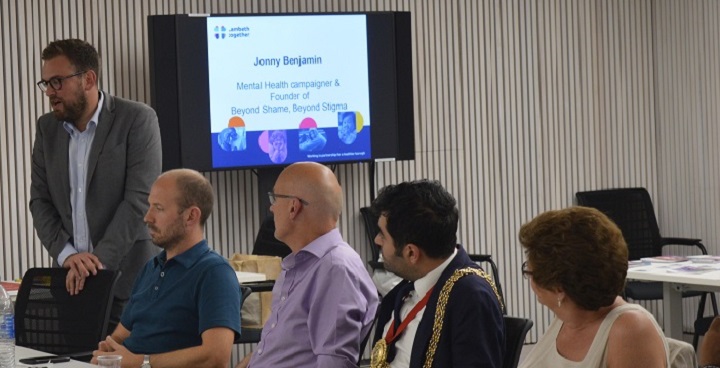 In 2014 Jonny Benjamin started a social media campaign to #findMike, the passer-by who talked him out of taking his own life in Lambeth. The campaign went viral and led to Jonny re-connecting with Neil, (the real name of the stranger who stopped him) and the two of them campaigning for suicide prevention and setting up the 'Beyond Shame, Beyond Stigma' charity.
Lifesaving conversations
On World Suicide Prevention Day, 10 September, Jonny joined Lambeth Mayor Cllr Ibrahim Dogus, GP and Chair of NHS Lambeth CCG Adrian McLachlan and suicide prevention charities the Listening Place and Papyrus to launch Lambeth Together's new partnership approach to suicide prevention. The theme was "anyone can have a lifesaving conversation".
Talking feelings
Jonny said: "Many mental health problems start in the teenage years, we should do more, earlier. From the age of 5 I was scared of what was in my head, but didn't have anyone to talk to about it, so I didn't. At school, people came to talk about careers, they didn't talk about feelings. The only mental health education I got was the film 'One Flew Over the Cuckoo's Nest'. At university, I was sent to a suicide ward. They watched me 24 hours a day but never spoke to me.  I know I can't talk myself out of wanting to die. I was stopped from killing myself by a stranger. No-one had listened before. No-one said 'you're going to be all right. "
New pathway
Lambeth's Living Well Network Alliance also chose World Suicide Prevention Day to share the news of its new crisis pathway for adults, providing a range of options for people in the borough seeking help with urgent mental health issues:
The Single Point of Access (SPA), a telephone assessment service to help people get the right support first time
New short-term mental health support services seeing people for up to 12 weeks
New weekday outreach services making it easier to support people in mental health crisis at home – the target is to make this a 7-days-a-week service within three months.
London's new Zero Suicide initiative also recommends that every organisation should have a lead suicide prevention champion. Cllr Ed Davie, Cabinet member for health and adult social care  introduced the council's champion, Cllr Joshua Lindsey, who will focus  on raising awareness among high-risk and vulnerable groups, including men under 50.
More information
For more about local expert partners who can help with information and training on suicide prevention.