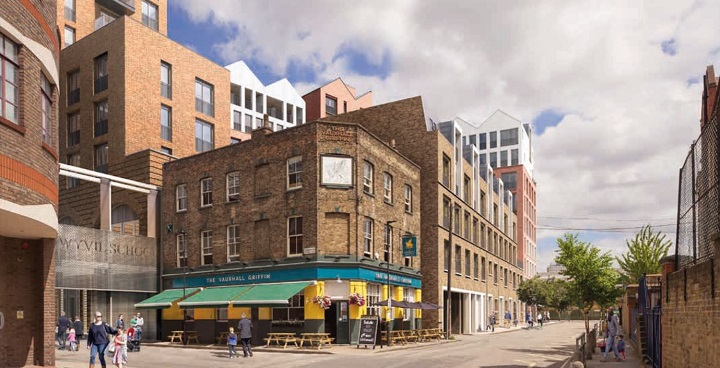 Wyvil Primary School in Vauxhall is set to get a new 360 place school building expansion as part of the Keybridge development just across the road.
The deal will save Lambeth Council around £8m and help meet the growing demand for school places in London's fastest growing area.
The bespoke new building, which will be home to Wyvil pupils in years four, five and six from 2020, will be at the base of the new building, with homes on the floors above. The existing Wyvil school building will remain and be refurbished to accommodate Reception and years one, two and three.
Mount Anvil, A2Dominion and the council will also contribute towards the delivery of 13 'intermediate rent' flats as part of the housing offer, with nomination rights secured for key workers in frontline public services.
Word from the Cabinet
Cllr Matthew Bennett, Cabinet Member for Planning, Regeneration and Jobs, said: "This is a great deal for the council and the school and is a great example of us ensuring that the massive growth happening in our borough benefits everyone.
"Wyvil is a fantastic primary school and thanks to this agreement we can make sure more children in Lambeth can go and get a great start to their education there.
"Working with developers like Mount Anvil and A2Dominion means we can welcome new residents into the borough, growing our council tax base, and deliver services, infrastructure and amenities that we would otherwise struggle to afford."
'Wonderful new building'
Wyvil Executive Headteacher, Christopher Toye, said: "I'm delighted that Wyvil is able to expand in this way. The school has been situated in this location for one hundred and forty two years and is right in the heart of this growing area. We are already seeing the advantages.
"We're looking forward to welcoming even more children to our school and improving our offer to existing pupils with a wonderful new building, at the cutting edge of primary school education."
'Exceptional'
CEO at Mount Anvil, Killian Hurley, said: "Together with Phase 1, Keybridge will become an exceptional new neighbourhood in the heart of Vauxhall with new homes, open spaces, great retail, vital employment space and now a new school building with facilities the community can enjoy together.
"We have worked in collaboration with the council's Investment and Growth and Education teams, alongside Wyvil Primary School, to develop the plans over two years and are proud to help deliver a positive, lasting legacy for the area."