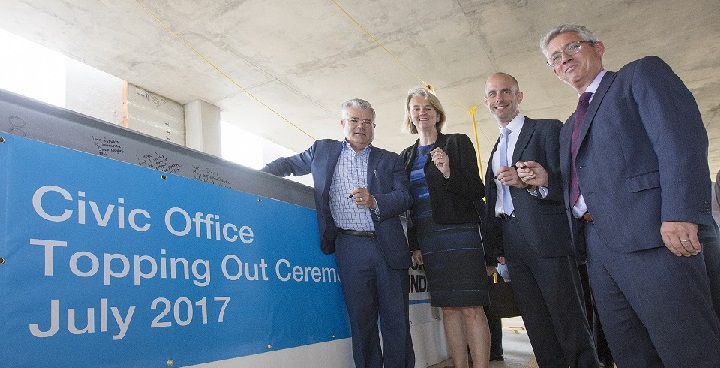 Signatures were added to a key steel panel on the roof of what will be Lambeth Council's new Civic Centre during a topping-out ceremony held on Tuesday in Brixton.
The YNTH scheme is one of the most ambitious and complex construction schemes ever undertaken by Lambeth Council, and has three key aims:
To bring council staff, who were scattered across 14 buildings around Lambeth, into two council-owned, energy-efficient buildings in central Brixton – saving £4.5 million each year
To use much of the freed-up office sites to provide space and finance for over 200 new homes, to help tackle Lambeth's housing crisis. Of those homes, 47 per cent will be 'affordable', with most of these available at council level rent. Official figures show that only 13 per cent of new homes approved across London in 2014/15 were affordable housing
The council will provide space for local business start-ups in the basement of the revitalised Edwardian Town Hall. Refurbished rooms including the historic assembly rooms will be available for public use
Barely a year since work clearing the 'Triangle Site' began, the borough's new, energy-efficient civic building, with customer centre and council offices, is already taking shape on the site of the former Town Hall Parade. It is set to open early next year and, while this impressive, modern structure has been gradually appearing on Brixton's skyline, the Grade II listed Town Hall is being restored to its original glory and will be open by Christmas.
Word from the Cabinet
Cllr Paul McGlone, Deputy Leader of Lambeth Council, said: "I'm delighted that work on the Your New Town Hall project is progressing well and residents can already see the scale of the project taking shape. Today's ceremony was an important step on the road to completing this project which is on time and on budget.
"It's exciting because YNTH is a perfect example of how the council can make best financial use of assets when money is tight. We will save £4.5 million a year with better use of office space, free up land for new affordable – and I mean genuinely affordable – housing and create a building that has a host of community uses.
"When finished and handed over to the council early next year I want to see the building in use seven days a week, hosting small businesses and public events. I want it to be an asset for all of the borough."
'Effective partnership'
Michael Auger, regional director at Muse, said: "It's been great to join our partners on site to celebrate this important milestone in such a crucial development for the council and the wider Lambeth borough. This project shows what an effective partnership approach can achieve – helping to improve efficiency for the local authority, creating a fantastic new facility for the local community and building hundreds of new homes, including a large proportion of affordable."
Richard Dobson, Morgan Sindall area director for London, said: "We're delighted to have reached this key point on this landmark development which will provide the people of Lambeth with a fantastic new, sustainable, user-friendly facility. We look forward to continuing to work closely with our expert project partners – including sister company Muse, and our specialist team as we enter the final phase of development."
New homes
YNTH has always been about more than just the Town Hall: at the same time as the civic building work has been going on, residents are starting to move into new homes created as part of the project.
Lambeth, like most of London, is faced with a housing crisis, with huge demand on social housing and historically-high rents in the private sector. YNTH was specifically designed to help tackle these problems, and its contribution to housing in the borough is a key benefit of the scheme.
Overall, the project will deliver 219 new homes for rent and sale – 47% of them affordable – including the recently completed Wynne Road project. The next part of this phase of the YNTH project will include the construction of a residential block where the Hambrook House offices once stood, and the conversion of Ivor House – on Acre Lane next to the Town Hall – into homes.
These sites alone will provide 120 homes, of which 40 per cent will be affordable – and, of those affordable homes, 70 cent will be let at social target (or council) rent.
Finance
The council's total budget of £104m includes a total construction cost for the Town Hall/Civic Centre work currently forecast at £68m, plus the purchase of the freehold at the sites of Olive Morris House and Hambrook House, which the council held on long leases, to enable the development of the new homes on those sites.
The total budget also includes the cost of managing the development as well as IT infrastructure for the newly completed office buildings.
Community
Cllr McGlone said: "Our ambition has always been to restore the Town Hall for the community while reducing the number of council buildings to save money for our residents. But this project also provides much-needed new and affordable housing at the heart of Brixton, as well as opening up the Town Hall for community use and affordable workspace for local businesses."