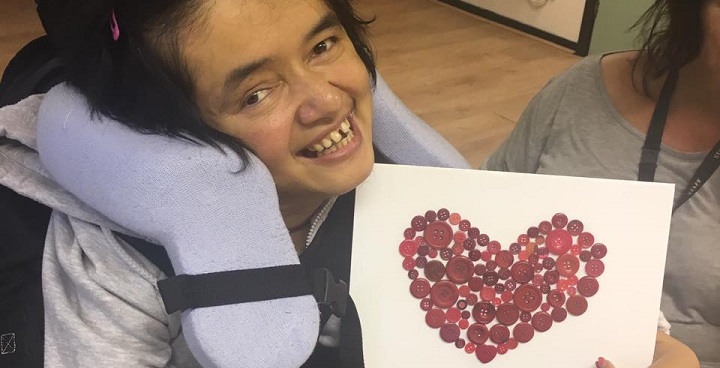 Amanda Callis, founder of Cool it Art, was inspired by Age UK's statement "over 1 million older people go over a month without speaking to anyone" to use her work as a Community Artist to combat isolation. Vauxhall Gardens TRA (VGERTA) shared the goal and offered a space at the Carmelita Centre.
From tasters to regular sessions
"Young at 'Art began June, 2016 with five weekly 'taster' classes in Vauxhall sheltered housing. This developed into weekly classes and additional funding once the community benefits were clear.  One 91–year old said "painting made her forget her pains".
Overcoming isolation
While the project initially started to help overcome loneliness in older members of the community, it's grown organically to support other vulnerable adults – including mixed abilities and adults with complex needs (eg special needs and/or mobility issues).
Lambeth Walk Day Centre
Adults with profound and multiple disabilities – and their carers – from Lambeth Walk Day Centre said: "London can be very lonely and, if you have a disability, even lonelier! The opportunity to go and do new things and meet new people can only benefit an individual in an environment where they don't feel out of place or stared at such as the Young at 'Art classes."
Community benefits
Young at Art has included 30 members of the community regularly since we started and we continue to see the project thrive and benefit more Lambeth residents.
"The art class is great and always interesting. Amanda makes you feel very welcome; there's no pressure, and the length is perfect for me as I get tired quickly. It is marvellous to have this in the community so you can meet people nearby and hear about other events. I would highly recommend it to older people who live alone like myself."
The benefit of art
The benefit of art is that anyone can find something to enjoy. Sessions are structured but there is only the occasional need to adapt – even people with mobility issues enhance their creativity in the sessions. Get involved on Thursdays at the Carmelita Centre, 41 Vauxhall Walk. Classes are well loved and well attended. We hope they will become a permanent, valued addition to our community activities.
---
For more information
For more about Cool it Art – including art projects from Young at 'Art – see their information pages
For more about Age UK campaigning charity work for older people see their pages
Follow Vauxhall Gardens Resident and Tenant Association (VGERTA) on Facebook