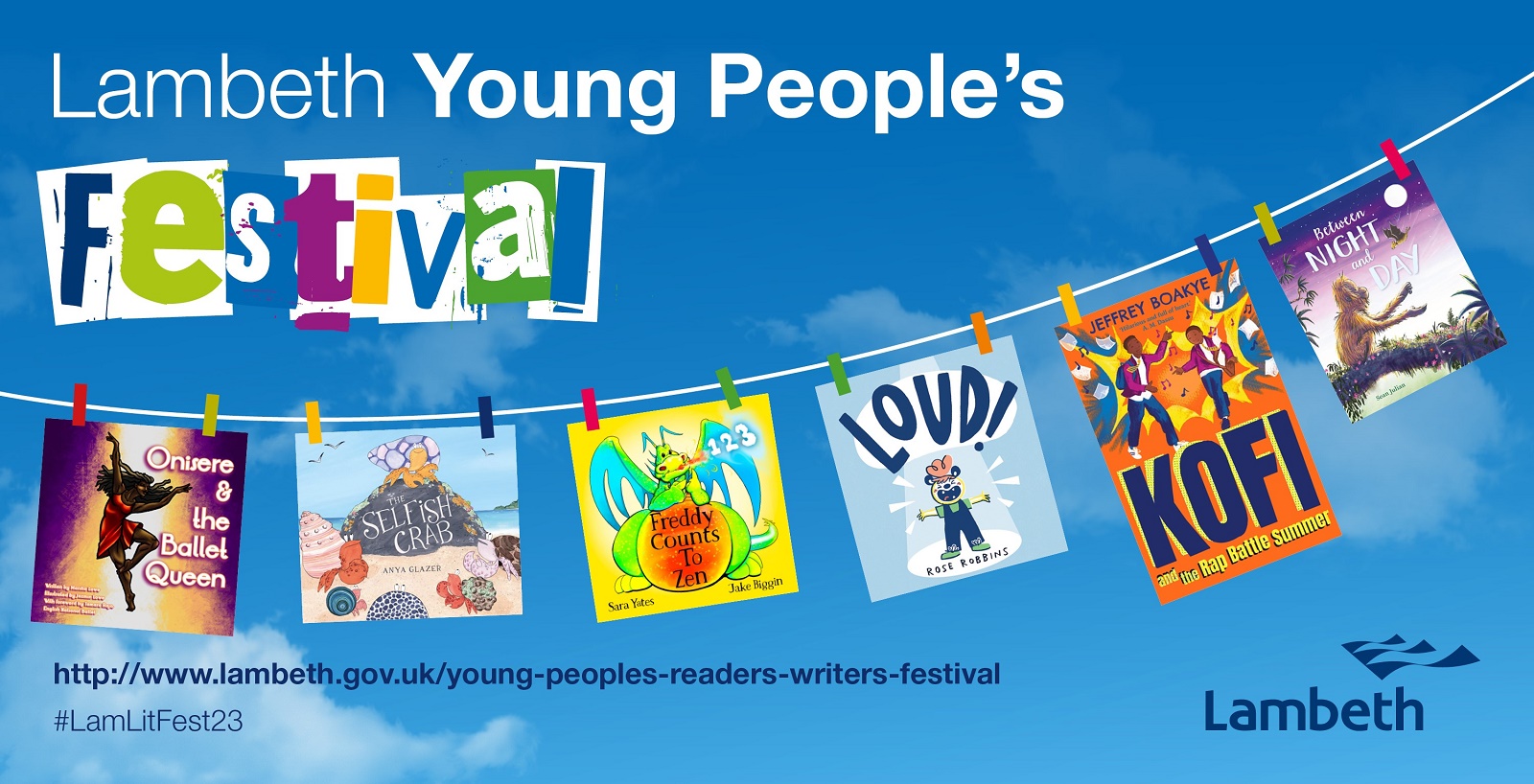 Welcome to Lambeth Libraries' annual Children and Young People's Readers and Writers Festival.
Word from the Cabinet
Cllr Donatus Anyanwu, Cabinet Member for Stronger Communities, Leisure and Sport, said: "We have a packed programme of events to suit all tastes, whether you enjoy reading, writing, discussion or simply sitting back and listening. It's a fantastic literary festival dedicated solely to children and young people. Come and join us and express yourself! You'll be amazed at the fun you can have in your local library."
"Kindness for all" theme
In June we celebrate Lambeth's rich diversity by including Refugee Week, Windrush 75, Pride Month and Empathy Day. Our theme is 'Kindness for All', with special emphasis on celebrating children and authors with disabilities and their representation in stories.
The programme
We celebrate children and young people with events and activities to suit all tastes – author talks, storytelling, sports workshops, quizzes and much more. The month includes weekly sessions:
Under 5s Wriggle and Rhyme Storytime Sessions (including SENDsational Wriggle and Rhyme for children and parents with Different Abilities).
Chatterbooks Clubs for 7- to 11-year-olds.
Maths Explorer sessions to discover yourproblem-solving style.
… and one-off events:
Sheffield Libraries' Liz Chapman and Lambeth's Zoey Dixon Pride Month chat about new LGBTQ+

interest books for children and young people.

An interactive session teaching basic ballet steps, based on Onisere and the Ballet Queen
Portugal Day
Your chance to meet author and illustrator Sean Julian and CBeebies Mrs Hobbs
Learn Dominoes with the Brixton Immortals.
Summer Reading Challenge
We continue with the 'Ready, Set, Read!' sports and games-themed Summer Reading Challenge 2023 delivered in partnership with the national children's charity Youth Sports Trust and public libraries.
Events
Sanctuary – Oxygen Arts worked with young refugees from Streatham to produce a thought-provoking exhibition on the theme of 'Sanctuary'. It was launched in December 2022 to mark Lambeth's  celebration of becoming a Borough of Sanctuary
Share imaginative ideas on how technology can help your local community. The Institute of Imagination's "My Big Idea: A Children's Showcase" event in partnership with the LEGO Foundation and supported by Zapper includes a special showcase event on 17 June. Free "My Big Idea" resource packs, including a mixed reality headset, available from libraries from 12 May.
More information
Find full details of events for every day – times, addresses, and Eventbrite Booking details at Lambeth Council's Libraries and Archives landing page or read/download from the microsite.