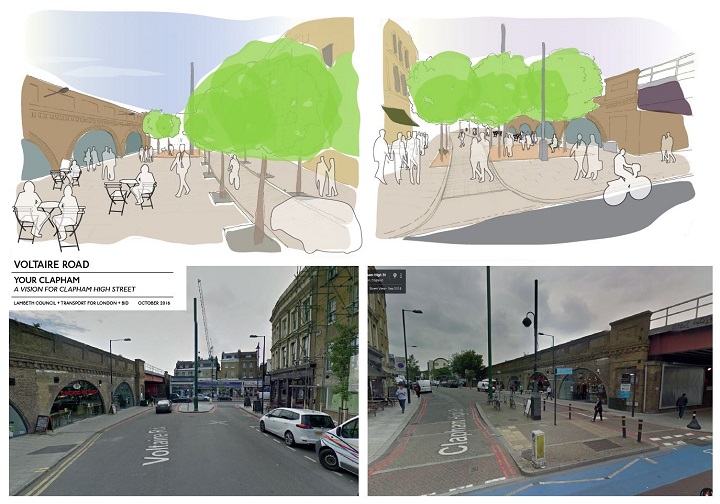 Lambeth Council has been working with the This is Clapham Business Improvement District (BID), Transport for London and the Clapham Society to develop a series of concept designs for important locations across the Clapham town centre area. Concepts include designs for:
Voltaire Road (shown above)
Clapham High Street
Clapham Park Road
Clapham Manor Street
Nelsons Row
It is now your chance to get involved in this project, and your community. We want your thoughts and comments on our designs and to find out what your priorities are. By working together as a community we hope we can work towards an improved Clapham for everyone.
Get involved
Come and see our concept designs at:
Or visit our Your Clapham page, where you can download the designs and provide feedback.
This informal consultation will be open from Monday 24 October to Sunday 20 November, feedback can be provided on our webpage or by visiting us at one of our drop in sessions. View the Your Clapham consultation.
What will happen afterwards?
At the end of the consultation we will analyse the feedback received and may make changes to the designs.
Using the feedback, designs which are well supported will be prioritised and form the basis of our fundraising efforts. A similar approach in Brixton town centre resulted in over £1 million being raised to deliver projects in the Brixton public realm study.
Find out more
What is This is Clapham?
This is Clapham is a Business Improvement District that represents 355 business in Clapham. The BID raises funds through a levy and spends it on priority projects from additional street cleaning and a warden service through to free business recycling.
A key priority for the Clapham BID is to enhance the public realm around Clapham High street to match improvements in Old Town and Venn Street.