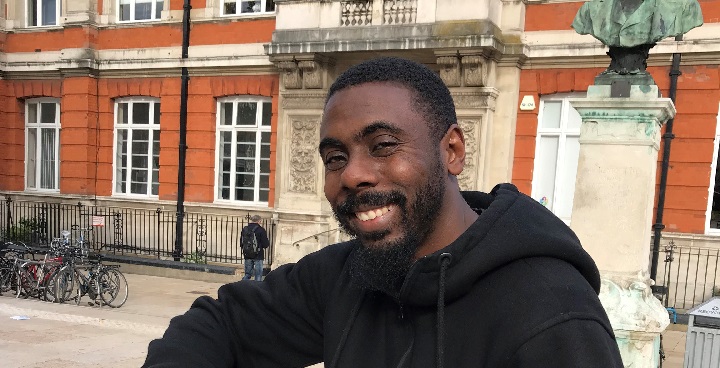 The multi-talented youth worker who works for the Young Lambeth Cooperative (YLC) as a pathways coordinator and performs as a spoken artist, picked up the award last month in Liverpool.
The YLC is a youth organisation which Lambeth residents can join to take part in choosing the youth and play services available for the borough's young people.
'Bringing this back to my community'
Karim said: "Winning the award was great because 25,000 people across the country voted for the winners in the category I was nominated in.
"But the most significant thing for me is bringing this back to my community, using it to raise the aspirations of the community, inspiring those around me and hopefully helping help other people see they can also achieve positive things in their own lives.
"It's important that young people that I may have worked with, or helped, or just know me from Brixton see that if I can achieve something like this, they can do. They need to believe in themselves as much as I do, and that they can be recognised for doing great things – not just for the negative."
Opportunities
Karim, 32, who was born in Brixton and went to Dunraven School in Streatham works to support young people into opportunities, and helps voluntary sector organisations working with youth in the area. His work with the YLC is funded by Lambeth Council and the Big Lottery Fund.
He has presented details of his work to the national Government as they seek solutions of the issue of serious youth violence, and he has been invited to run a workshop about his achievements in youth work at prestigious Cambridge University.
Karim said: "We live in an era where there's so many opportunities, but the challenge is how to access them and making the most of them. The barriers to opportunity are greatest for young people from challenging backgrounds and deprived areas.
"Media is big area, there's business, politics and more that I'd like to see more of our young people thrive in. Me winning this award might inspire a young person to say 'right Karim has worked hard in youth and community work I'm going to work hard in my field, and I might also get recognised'."
'Breaking barriers'
The young people supported by Karim come through referrals from social services, the council's youth offending team, from concerned parents, youth organisations or direct referral from the young people themselves who know him and his work.
He then works with the individual to help them access opportunities, be that in the borough or outside of Lambeth.
He said: "I had a young man self-referred to me who was facing a number of challenging issues. We were able to support him to get his security badge, and off the back of that he's now working in security, earning his own money and saving up to buy his mum a car.
"This is a young man who comes from a difficult background who's breaking the barriers and working hard – and that's what it's about. Ten-years from now he might have his own security firm. For me that's inspirational.
"I would say to every young person in this borough – you are the author of your own story. What story would you want to write about yourself – and how would the ones that you love, and you love, respond to that story. In life we all have people who look up to us – what would you want to inspire them to do."
Big challenge
Despite the hard work being carried out the statistics show that serious youth violence remains unacceptably high in Lambeth, and Karim says the situation is a big challenge that needs all communities to set a good example and collaborate across ethnicity, religion and class to tackle.
He said: "If communities don't talk, how can we expect young people whose moral compass may be out, to speak to other young people who they think they have conflict with. It's important that groups, communities can set a clear example of how to co-exist and live in a peaceful environment. If that's done right, then young people will follow suit.
"Lambeth council has recognised this by using the public health approach to serious youth violence. Its laid out a 10-year plan for partnership that's a real start because the approach needs community involvement and every one working together in collaboration. For me that's very important and I'm proud that Lambeth is being a leader in taking these steps."
Reach out
For young people who don't feel confident about their future, Karim advises them to reach out to somebody they can feel they can talk to, and not to be scared. Be that a teacher, mentor, a youth worker or sports coach. For young people who don't feel safe he says to reach out to parents, a teacher, school, a guardian or the police to communicate the issue so they can help, or map out forward.
He said: "For me one of my ultimate goals in Lambeth where we still have unacceptably high levels of serious youth violence is the creation of safe places for young people where they can feel safe, and get the support, nurturing and development they need to thrive and have their stories celebrated."
Karim who has worked for the YLC for a year and previously produced a documentary called Road to Recovery about youth violence and the marginalisation of young Muslim people. He appeared during Lambeth council's Black History Month programme on October 18 at Brixton Library during a Just Rhyme: Black History Month Special.
To contact Karim and the YLC phone 020 7095 1018 or email inbox@younglambethcoop.co.uk.