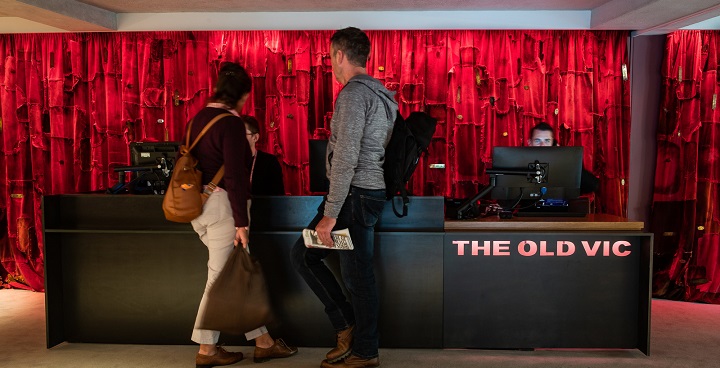 After checking cultural spaces on the South Bank, AccessAble turned to The Old Vic. The Old Vic has worked to improve accessibility across its building – part of their mission to support, educate and welcome all the community.
Wheelchair access
For the first time in two centuries, wheelchair users can easily visit The Old Vic, with a newly-created entrance on Waterloo Road, and a new lift down to the Penny café bar and up to a new accessible Box Office. New loos in the café space include a wheelchair accessible cubicle (as part of an overall doubling of loos across the theatre). There's a new accessible foyer bar where the Box Office stood. Phase one of the work was completed late in 2019. AccessAble have visited, checked and updated their website with the new accessibility information.
Word from the Cabinet
Cllr Tina Valcarcel, Lambeth's Deputy Cabinet Member leading on disability, said "We're delighted that the Old Vic, such a symbol of Lambeth's welcoming people from everywhere, is changing to be part of the future, and to support AccessAble in its continued progress towards making Lambeth London's leading accessible borough."
 New menu
As well as the improvements for wheelchair users, the Penny bar has been updated for the local community. Its new menu focuses on local, ethical production, gender equality amongst suppliers, and is committed to being 100% single-use plastic-free in 2020.
More inclusion
The next step will be a five-storey, £12m cultural hub, The Annex. Partly underwritten by Lambeth Council, the project will include space for studio-style drama, music, comedy and dance performances, and a Learning Centre with education offices and a library of playtexts freely available to schools and visitors.
Artistic powerhouse
Kate Varah, Old Vic Executive Director, said: 'We set out to make changes to The Old Vic reflective of the needs of today's audiences and our local community… making significant steps towards securing The Old Vic's future as an artistic powerhouse and a vital civic resource.'
For more information
For what's on, ticket bookings and more see The Old Vic information pages
AccessAble has surveyed 1000s of UK theatres, cinemas, shops, pubs, restaurants, stations, hotels, universities, hospitals and more – offering accessibility information, guidance via their Website and App to make going out easier.
For the AccessAble guide to the improved Old Vic, see their online guide.