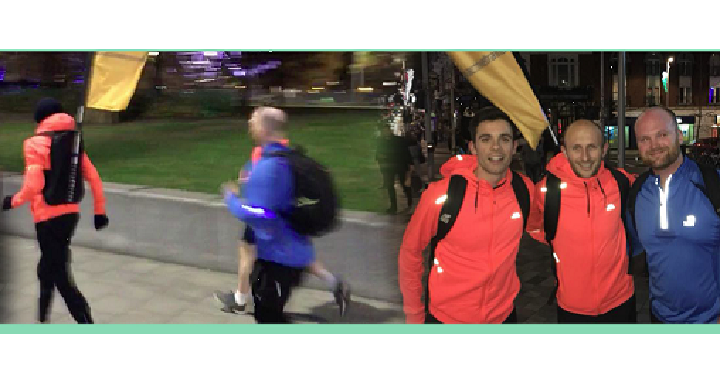 Active Train could be the revolution people need to start actively travelling some (or all) of their commute. There are currently two Active Train routes in Lambeth:
Lambeth Line Brisk Walking Group collects commuters at Stockwell War Memorial, Oval and Kennington Stations for Waterloo. Average speed: 4mph (6.5kph); total distance: 3.1 miles – (5KM). Suitable for beginners. Departs Stockwell 7.30 am , arrives Waterloo 08:20. Return journey begins 6pm.
Clapham Express Jog / Easy Run Group – Waterloo to Clapham Junction via Vauxhall and Queenstown Rd. Route includes stairs and beginners are advised to try one station-to-station run first and build up endurance.
Who runs the trains?
Groups are led by volunteer Drivers, Supervisors and Guards. All wear orange Active Train kit with a matching flag for visibility.
Driver: Qualified Walk/ Run/ Cycle Leader keeps the group on schedule
First Aid Trained guard follows the group
Supervisors travel among the group, ensuring that everyone is safe, helping if the group get separated at traffic lights, etc.
What do I do?
Plan ahead – leave a change of clothes at work on Tuesday. Travel light – there's no guards van for your bag. Bring a small bottle of water.
Get to your station 5-10 minutes early
Bring your registration form to your first session so we know who you are.
Remember to leave the Active Train Group when you reach your destination!
What if I can't keep up?
Don't worry; no one gets left behind. Active Train groups follow actual commuter lines, so you're never far from a station – perfect if you want to build up your distance gradually. Check train/tube timetables to make sure you can join us.
What about rain?
Unlike real trains, Active Train won't stop for rain or leaves on the line! In the unlikely event of cancellation, we'll communicate immediately through Twitter and Facebook.
I want to join the Active Train Team!
We're always looking for more volunteers and new routes. We provide training opportunities and free branded running kit for volunteers.
The future
We're looking to start a Community Interest Company (not for profit), so we can apply for more funding and reinvest in the programme. We're already in talks about sponsorship.
---
For more information
Email Active Train for a Registration Form to join a group, for a full timetable on the Lambeth Walking or Clapham Jogging route or to join a volunteer team