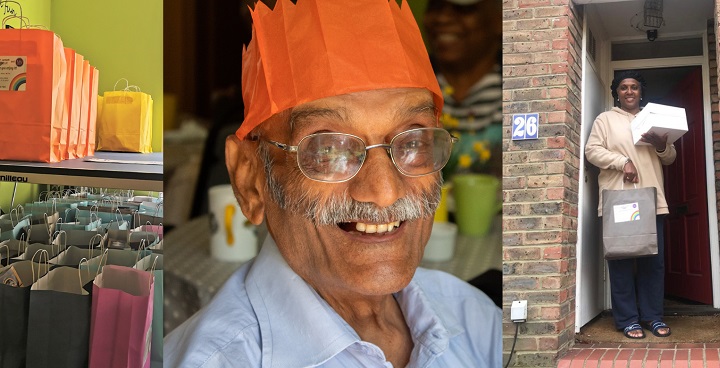 Age UK Lambeth want to reach 120 older people on Christmas Day, connecting volunteers with people who will be alone. Volunteers will cook an extra portion of Christmas Dinner for delivery to a neighbour living alone.
Difficult for everyone
2020 has been difficult for everyone – especially older, isolated people. Age UK reports:
1 in 3 older people feel more anxious than at the start of the pandemic.
1 in 3 older people feel less interested in doing what they enjoy.
Over a quarter can't walk as far as they used to.
With the second lockdown, people have lower emotional reserves, with bad weather making it hard to get out and exercise.
Making a change
Gertrude, 84, lives alone in Brixton. Age UK Lambeth have visited for a few Christmas Days now. "I had a nice dinner delivered with a pudding and a lovely little present. It makes a change from the ready meal I'd usually have. It brightens up your day."
Rely on the community
Without bucket collections, events and raffles, Age UK Lambeth rely more than ever on the generosity of the community. It costs £15 to provide each goody bag Any extra money raised for Christmas will fund winter MYsocial events helping to reduce loneliness. Please support this Christmas Appeal with whatever you can.
Making a donation
You can make a donation online
Text 'LAMBETHXMAS 5' to 70085 to donate £5. Texts cost £5 plus one standard rate message and you'll be opting in to hear more about our work and fundraising. If you'd like to give £5 but don't wish to receive marketing communications, text LAMBETHXMASNOINFO 5 to 70085.
Call 0333 360 3700 to make a donation by cheque or cash.
To volunteer to deliver a meal this Christmas email volunteer@ageuklambeth.org or call 0333 360 3990
If you would like a meal from AgeUK Lambeth volunteers on Christmas Day please call 0333 360 3990
More information
Age UK Lambeth has supported older people in the borough for over 70 years. We offer services including advice on pensions, care, housing, and benefits; social prescribing support; befriending – beating loneliness with a volunteer visitor; Handyfix and cleaning services; hospital-to-home service, and MYsocial with over 400 events last year.
We're very grateful to the local community for all their support which helps 17,000 people each year.