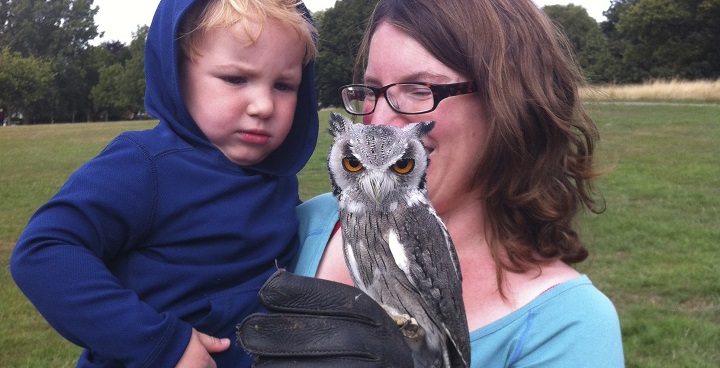 The Friends of Streatham Common is a voluntary organisation, run by local residents.
We work with Lambeth Council and the Streatham Common Co-operative to ensure that Streatham Common and the Rookery are well kept and have facilities for all sections of our community, providing community views of the maintenance and development of the area in a way that balances the needs of diverse groups of users.
We also run a number of popular public events each year which, among many, include Streatham Kite Day, Bird Walks, Open Air Theatre in the Rookery and the Fun Dog Show.
Birds of Prey Flying Displays – Sunday 23 August 2015
On the Common, near the path from opposite Copley Park to opposite Valley Road. Birds (owls, falcons, hawks etc) on show from 1pm to 5pm, and displays of flying at approximately 2pm and 4pm. A free event but donations welcome on the day.
Fun Dog Show – Sunday 6 September 2015
Our annual dog show on the upper Common. Registration from 12.30pm; show starts at 1pm.
Bat Walk – Friday 18 September 2015
As dusk descends, we will be using our eyes and bat detectors to look for for bats flying above the Common. Meet by the cafe at 7.10pm. Booking essential – email IBoulton@lambeth.gov.uk
Fungi & Bird Walk – Saturday 17 October 2015
Learn about the Wood Wide Web & the interesting fungi and birdlife on Streatham Common. Starting by the cafe at 9.30am. Fungi will not be collected or eaten!
– – – – – – – – – – – – – – – – – – – – – – – – – – –
Find out more about the Friends of Streatham Common
To find out more or to see the latest information about upcoming events, please visit the Friends of Streatham Common website.
You can also support the Friends of Streatham Common by becoming a member and by volunteering to help with events. You can contact us by emailing friendsofstreathamcommon@gmail.com.