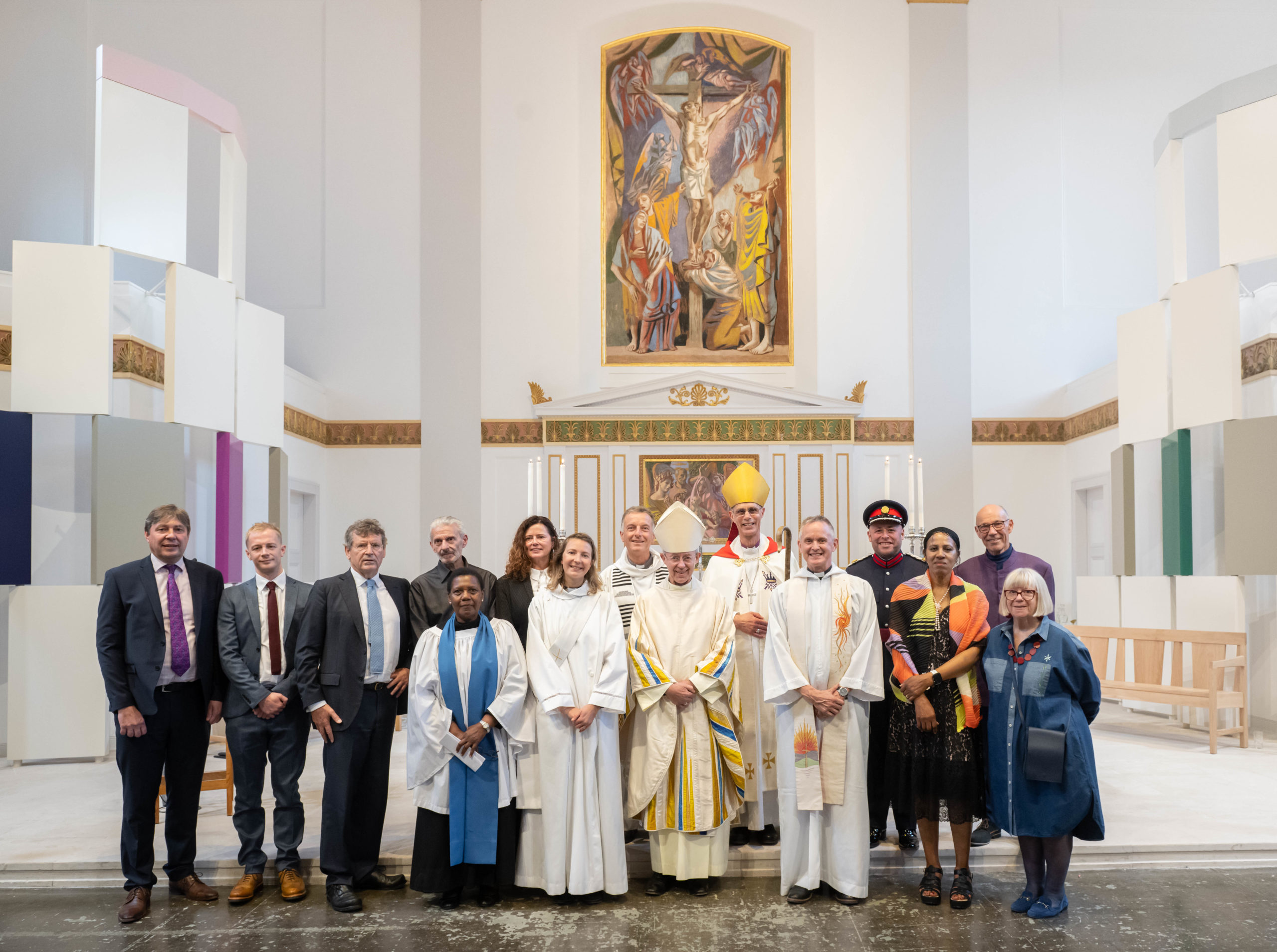 The service was attended by some 250 people, all supporters of St John's ambition to be a continuing Christian presence in this busy part of central London. The congregation has contributed more than £1m to the restoration project, while Lambeth Council provided £800,000 of grant money channelled from developers in the borough to support local community infrastructure projects that benefit local people.
Among those attending the service, on Sunday 2nd October, were the leader of Lambeth Council, Cllr Claire Holland, Christopher Wellbelove, Deputy Lieutenant for Lambeth, the Bishop of Kingston Richard Cheetham, and Simon Gates, Archdeacon of Lambeth.
Revd Canon Giles Goddard, Vicar of St John's Waterloo, said: "We are honoured that the Archbishop came to St John's to help us launch an important new era in the life of our church.
"Today we welcomed all who have worked so long and so hard to see through this monumental challenge: the architects, builders, surveyors, engineers, craftspeople, sustainable energy experts, painting conservators and technicians, and the trusts, foundations and donors who believed in our vision. Above all, we gave thanks for our generous, inclusive congregation. It was their desire for a church that played a full role in its community that kept us going and brought us to this day."
Archbishop Justin Welby said: "This is the second time St John's has transformed itself to bring hope after a period of national despair. During the Second World War, a firebomb fell through the roof but in 1951 the church was rebuilt to be the official church of the Festival of Britain. Now, as it reopens in these post-pandemic times, St John's is a place where relationships are being rebuilt and community strengthened."
Word from the cabinet
Cllr Claire Holland, Lambeth Council's Leader, said: "I am delighted that the council has been able to significantly contribute to the restoration of this historic listed church in our borough. St. John's has a long and proud history in our local community and to see this impressive project completed is a testament to the hard work and efforts of all involved.
"We were particularly keen to support this restoration as it features a major new installation of solar panels which now provide enough power to offset energy use in the crypt and to light the nave, contributing towards our shared commitment to achieve net zero carbon by 2030.
"We are working hard with partners to transform our borough so it is fit for a net-zero future to benefit all our communities, and projects such as this play a vital role in achieving this."
Lambeth's £800,000 contribution to the work came from "Section 106" contributions from behind large-scale building projects across the borough. The proceeds of these "development taxes" have contributed millions towards the costs of providing community and social infrastructure across the borough, enabling local groups to fund projects in a wide variety of areas including parks, public and open spaces, and community services and facilities.
The council grant has brought the vaults underneath the church into use as a refurbished space that will be secular, and available for hire by the local community or businesses.
The Bridge, the charitable arm of the church, will manage the space, free for the local community, with a focus on provision of employment, skills, financial inclusion and health advice and support.  This comes at a time when such support for local organisations and residents is more needed than ever in the context of the cost of living crisis.
Members of the public will be welcome to visit the church from 9am to 5pm Monday-Friday and for services on Sundays. They will also be able to take part in a new year-round social and cultural events programme which over the next few weeks includes classical concerts by world-class and young competition winners, discussions on press freedom and women journalists under threat, new LGBTQIA+ services and an exhibition on 1970s community action in SE1.
Canon Goddard added: "The church has begun a new lease of life. It's wonderful to see. Already, local people and the church congregation are discovering new ways to make it a place of welcome and discovery. We're grateful to all who have had a part in making this project happen, and looking forward to the future."