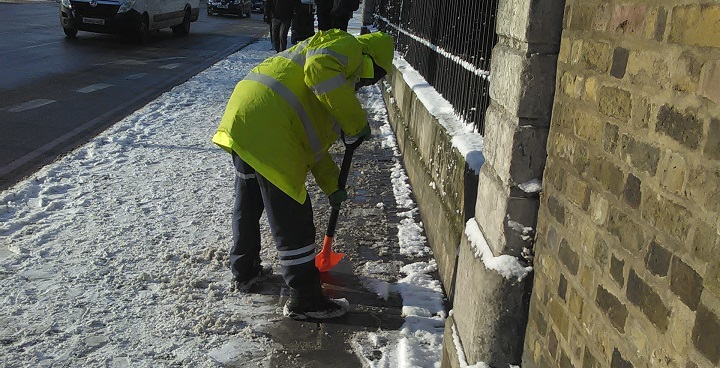 A number of schools in Lambeth have been closed today, due to the problems caused by snow. A number of schools have already indicated that they will not be opening tomorrow.
A list of those that have already announced closures is below, but this will be updated here throughout the day.
For further information about arrangements for individual schools, please contact the school directly, or see its website.
School Closures for Tomorrow, Friday 2 March 2018
Primary and Special Schools
Crown Lane Primary School & Children's Centre
Aurora House
Christchurch SW9
Crown Lane
Immanuel and St Andrew
Jubilee PS
Julian's PS
Livity
St. Andrew's CE PS
St. Bernadette's
St Stephen's
St. Jude's CE
Woodmansterne PS
Secondary Schools
---
School Closures for Thursday, 1 March 2018
Primary Schools
Crown Lane Primary School & Children's Centre
Granton Primary
Jubilee Primary
Kings Avenue
Livity
The Michael Tippett Special School
Paxton Primary
Secondary Schools
The London Nautical School
Partial Closures
Effra Primary – Nursery closed
Platanos College – Open to Year 11 pupils only; closed to all other pupils
---
Housing Services
Due to current adverse weather conditions we are only able to deal with emergency situations such as gas leaks, people stuck in lifts, heating and hot water issues for vulnerable residents, total loss of electricity, severe leaks or blockages and total loss of water.
If your call is regarding anything else please call back at a later date when we will be able to assist you.
---
Street sweeping and gritting
Our Lambeth streets team have been out since 4am gritting priority roads. For more information, see our gritting guide.
---
SEND, College/Day centre transport
A number of routes have been cancelled today due to health & safety concerns.
---
Customer Centre
Lambeth council's Brixton Customer Centre, at Olive Morris House on Brixton Hill, is only for appointments only today and tomorrow, due to impacts resulting from the bad weather. The measure is in place for today only at this point, and the situation will be reviewed on Monday morning.
---
Other buildings
Carnegie Library in Herne Hill is closed today due to heating issues