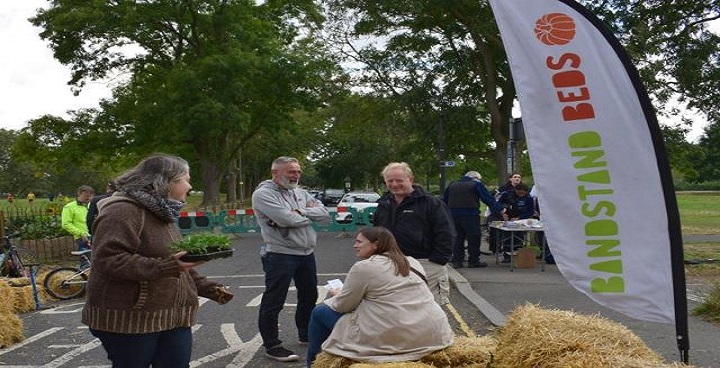 Bandstand Beds has been growing food on Clapham Common since 2013 and now has over 90 volunteers. The group started with just a handful of people and a few raised beds but, with the success of the community initiative, Lambeth Council have recently offered them an even bigger share of the Common's green waste site – known locally as 'the dump' – which they've transformed it into their biggest growing area so far.
Working and workshops
The gardens produce great fruit and veg, and encourage people to get outside, learn and share skills about gardening and connect with their community at events like a harvest festival and homegrown feasts.
'Bandstand Beds is run entirely by volunteers. We are a friendly, diverse group of people with a passion for gardening – but no experience is necessary. Come along and learn from the workshops we hold, or from some of our more seasoned gardeners. We're on the Common every Saturday morning, so why not drop by and see us!' – David Dandridge, Chair of Bandstand Beds.
Bags of cash
Now, Bandstand Beds stands to bag a cash boost from the 'Bags of Help' initiative – a funding scheme that sees grants of £5,000, £2,000 and £1,000 – raised from the 5p supermarket plastic bag levy – awarded to outdoor community projects.
If shoppers vote for Bandstand to get the grant, the money will be recycled into planters, pathways in the new garden so more people can use the space, and kitting out their brand-new shipping container with cooking facilities.
Spring greening
David says "Local businesses via the 'This is Clapham' Business Improvement District (BID) donated £2,000 to replace a rusty old shipping container. We plan to kit out part of the container with cooking equipment, and we're already talking to St Mungo's to set up cooking, pickling and preserving workshops. It'll be a café, the whole thing will be run by our volunteers. We're also talking to schools about their students maybe growing food in our polytunnel for use in their school cookery lessons. We're planning to become a resource for schools and local community groups, right there on the Common"
Voting with a token
Local shoppers can vote for Bandstand Beds to win a grant in Tesco stores until 28 January. Customers cast their votes using a token they get at the check-out in store. You don't need to buy a 5p carrier bag to vote, there should be no minimum spend, and you can vote every time you shop in any branch of the supermarket anywhere in Lambeth.
Twitter: @BandstandBeds Facebook: facebook.com/bandstandbeds