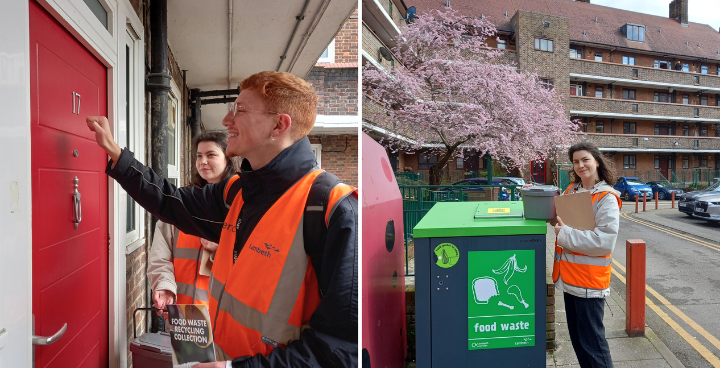 In March new food waste bins and caddies were delivered to 12 estates in the borough, doubling the number of communal properties that receive these collections.
To support the door-knocking and outreach component of this project, the council partnered with the charity Keep Britain Tidy. The door-knockers visited over 3,000 properties in the 12 estates and had one-to-one conversations with residents to encourage them to use the new service and to avoid contamination by putting the right things in the right bin. Cllr Rezina Chowdhury, Cabinet Member for Sustainable Lambeth and Clean Air, said,
"We are committed to reducing waste and tackling climate change, so it's great to see the success of the food waste collections project in the 12 estates. Our partnership with Keep Britain Tidy has been instrumental in educating residents and encouraging them to use the new service, and we look forward to expanding the service to more properties in the future."
 The outreach team reached the vast majority of households and discussions focused on both the environmental benefits of disposing of food waste and how it can save money, including by making overall recycling more effective.
Since the service began, the collection target is currently on track with two tonnes of food waste collected per week from the new estates. This number is expected to rise as residents become more familiar with the service, and there will be extra support to boost these recycling rates in areas that have the smallest increases.
Food waste that is collected is recycled, and used to create compost, which in turn can be used to grow more food, increasing sustainability.
By separating food waste from general waste, Lambeth Council is making a positive impact on the environment. This initiative helps to reduce greenhouse gas emissions and tackle climate change as set out in the borough's Climate Action Plan.