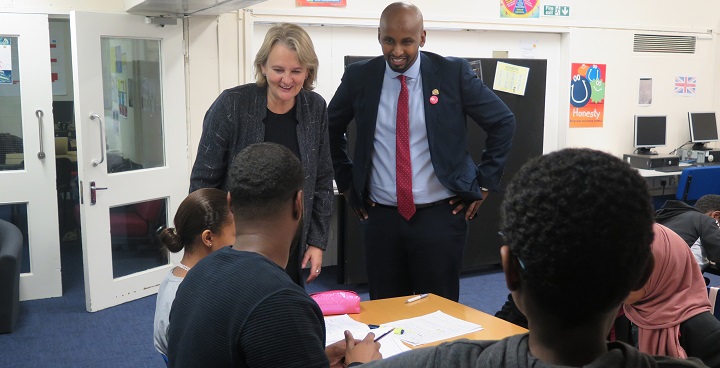 Lambeth's Equality Commission was set up to identify the barriers standing in the way of equality for so many people in Lambeth – and then to work out how we can all come together to break them down.
We wanted to highlight all unfairness, everywhere in the borough; wherever it occurred and whoever it affected. But the Commission also focussed, above all, on the challenges facing those communities that are often furthest away from opportunity. Lambeth's Somali community was one of these.
The difficulties faced by the Somali community have been well-documented over a number of years, and include familiar issues such as high unemployment, low incomes and overcrowded housing. The inequalities have also been demonstrated in the classroom: the Commission was told that while 68% of Lambeth children in 2016 achieved a "good level of development" – just 1% below the national average – the figure for Somali children was only 59%.
The attainment gap has, in the past, been clear across the school year-groups. Lambeth has identified this issue and worked hard to tackle it.  This focus, by schools, the local authority and the wider community, has paid dividends: in 2016, the figure for Somali pupils achieving 5 or more GCSEs at grades A*-C (including English and Maths) was 16 points ahead of the Lambeth average.
It has been a remarkable transformation, for which everyone – but particularly the pupils themselves – can take credit.
The Commission's final report stated that: "Witnesses to the Commission highlighted the considerable expertise and good practice in promoting educational achievement and engagement in Lambeth across local Lambeth schools, community groups and organisations. These efforts have contributed to the significant rise in achievement amongst Somali pupils, so that they now outperform the Lambeth average."
One of those community organisations that deserves praise is the award-winning Bright Education Centre, in Kennington. Cllr Lib Peck, Leader of Lambeth Council and chair of the Equality Commission, visited the centre last week.
The Centre was founded by Issa Issa in 2006, specifically to address the relative underperformance of many pupils from his community. It was designed to "support children and young people to develop their self-esteem and confidence to achieve and enjoy all aspects of school life, to support them to become responsible and caring members of society and to empower them to achieve their aspirations".
Working closely with schools in Lambeth, the BEC has grown to provide supplementary after-school support in key subjects like English and Maths, for scores of our young people, in a building rented from Lambeth Council. The Centre also provides alternative daytime education for a small group of 14–16 year olds who are at risk of dropping out or being excluded from school, college or apprenticeships due to poor behaviour or attendance.
It's an inspiring place. The commitment of the pupils – and their teachers – is there for all to see. And, although everyone is clearly serious about their learning, it is a fun and engaging environment. The pupils range from primary school children to students who are in the process of preparing their university applications.
BEC is supported by a combination of twelve paid staff – including three qualified teachers – and up to twenty volunteers. It was impressive, and heartening, that so many of the volunteers I met were former BEC pupils who had returned to give something back to the Centre.
So; a committed, welcoming, inclusive, inspiring resource. But, more important even than any of these, it produces results. BEC reports that it has "averted the exclusion of many young people from school who with support from the centre have gone on to achieve academic success". It has witnessed the growth in confidence and development of leadership skills in many of our students which enables them to engage positively with their mainstream schools. And, ultimately, over 80% of the students it has supported at levels 2 & 3 went on to University or college.
It's clear that Issa is making a big contribution to Lambeth's efforts to tackle inequality, particularly among our Somali community. The work of the BEC, in conjunction with our schools and the council, is an example for all of us to follow – in Lambeth and hopefully in the rest of the country as well.