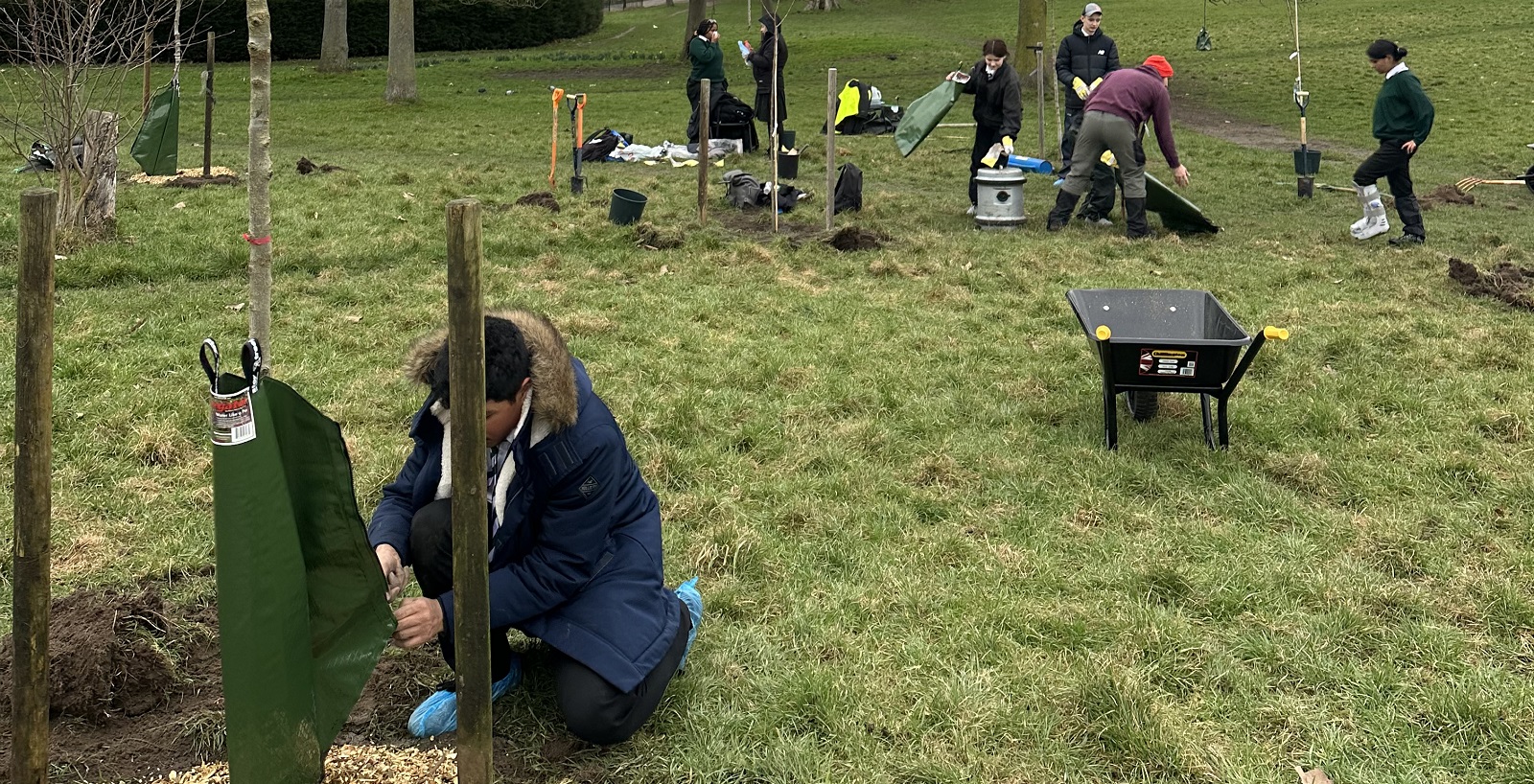 As Spring began, Lambeth's Trees team and students from nearby Elm Green School worked to plant a brand new small woodland with a dozen young elm trees in Brockwell Park.
Recovering from Dutch Elm Disease
Lambeth Trees are working to extend the cover of elm trees, planting 70 hybrid trees – bred to resist Dutch Elm disease – in streets and parks. The trees we planted included Ulmus 'Rebona' and Ulmus 'New Horizon', created by crossing clones of a Japanese and a Siberian Elm at a Dakota research station in the 1990s.
Butterfly habitat
These trees are bringing elms back to our landscape and creating habitat for the rare white-letter hairstreak butterfly, which is completely dependent on Elm trees for its caterpillar stage. Lambeth is focusing on planting Elm trees in areas that we know already support small white hairstreak populations, including Brockwell Park and Vauxhall Park.
Digging into the topic  
Before joining Lambeth for planting, the students (all in their mid-teens) researched the significance of the elm tree via the Elms4London website. The trees' cultural significance in Lambeth is clear from all the places named after them. As well as Elm Green, we have local schools named Elm Court and Elm Park, and most significantly a whole area – Nine Elms in Vauxhall.
The students worked really hard to plant the trees which came in big containers and needed deep holes. Some students had never planted a tree before, others have been supporting growing families since their childhood. With the trees planted, they were all deservedly proud and many took selfies with their trees. Lambeth tree officers were pleased to share their skills.
More information
The small woodland planted in Brockwell Park will be dedicated as a Queen's Green Canopy Woodland.
Elms4London sponsored four of the trees through their sponsor Treeworks.
We were delighted to receive funding to support the Elm tree programme along with wider tree restoration from DEFRA's Local Authority Treescape Fund.
Lambeth Council has more community tree planting planned in Brockwell park next winter as part of the Rewilding Brockwell North project.