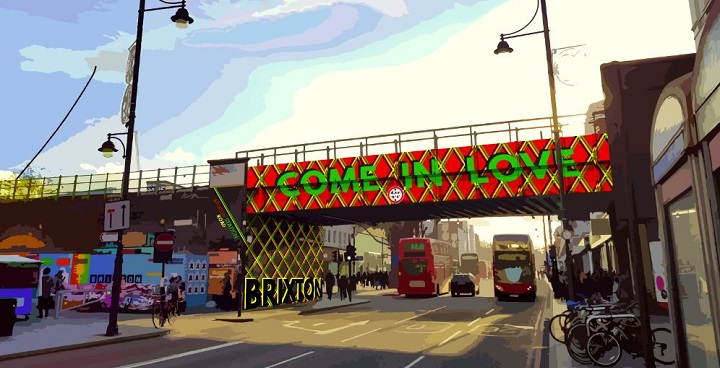 A competition run by Brixton Design Trail selected a design with the message 'Come in Love, Stay in Peace' by Lambeth residents Farouk Agoro and Akil Scafe-Smith (for RESOLVE Collective).
They will work with specialists 'OUTSIDE' to install the art work, beginning during Brixton Design Trail Week (15th to 23rd September) and schedule to finish in early October.
The old 'B OUR GUEST' sign on the railway bridge spanning Brixton Road has been removed and contractors CVU have started on site to ready the bridge for the new design.
The bridge will be a new impactful gateway into Brixton, with a bold geometric design that also draws inspiration from the iconic string vests sold in Brixton Market.
'The essence of Brixton's culture'
Akil and Farouk said: "Today, more than ever, it's important to archive, celebrate, and consolidate the essence of Brixton's culture. This has been an incredible opportunity to have our design realised but now it's crucial that there are continuous structural efforts to engage local artists and encourage artistic expression as a powerful tool for communities."
Workshops
With artist Annie Nicholson, the designers are planning a series of workshops with the Marcus Lipton Youth Centre in Loughborough Junction. The format of the workshops is currently being decided, but the aim is to provide a range of art and design opportunities for young people in the local area that lead to long-term benefits in their creative development.
The bridge clean-up and design has been funded by Lambeth Council as part of our match funding for the Mayor of London's High Street Fund programme, which has also funded the installation of new gateway signage on Electric Avenue and the Pope's Road railway bridge.