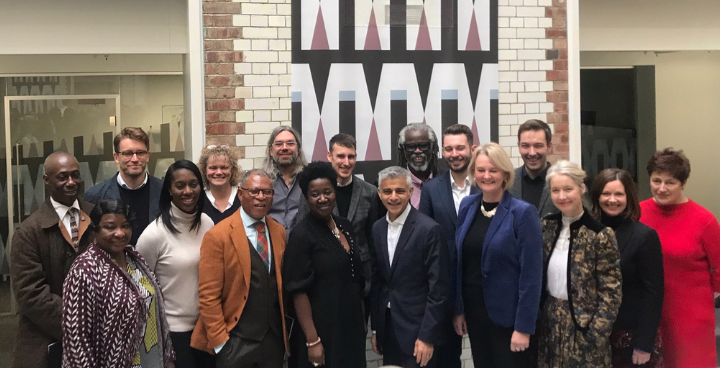 In a boost to the town centre by the Mayor of London, Brixton is one of six successful London areas to be designated a Creative Enterprise Zone (CEZ). Mayor Sadiq Khan made the announcement at Tripod, Brixton – one of Lambeth's many affordable workspaces – on Friday morning.
A £500,000 investment will aim to help attract and support artists and creative businesses and develop skills and jobs for local people in the creative and digital industries.
Brixton has recently seen the opening of London's largest affordable workspace at International House with all businesses paying the London Living Wage in agreement with the council.
Through the CEZ bid:
A Cultural Education Officer will be appointed to foster collaboration between schools and creative industries
A new business start-up programme will be put in place to help local people start their creative and digital businesses in Brixton
An international art fair – Brixton Biennale – will be established to showcase international creativity in Brixton CEZ
Lambeth's Local Plan (setting out its planning policy) will adopt an Affordable Workspace policy to secure affordable workspace and to safeguard and grow Lambeth's Creative and Digital Industries
Lambeth Council's applications for CEZ was developed in collaboration with Brixton Business Improvement District (BID), through engagement with stakeholders and informed by the council's Creative and Digital Industries Strategy for Growth and Brixton Economic Action Plan.
Cllr Lib Peck, Lambeth Council leader, said: "We're delighted that the Mayor of London has seen the potential here, and supported us with the CEZ designation. We will invest thismoney to benefit the people of Brixton, Lambeth and London as a whole.
"Lambeth is an incredibly diverse, vibrant and creative part of central London. We are seeing huge opportunities for growth, and Brixton is right at the heart of it.
"It's essential that we harness those opportunities to make sure everyone in Lambeth benefits, that the creative and enterprising nature of Brixton's community is not lost, but protected, encouraged and given the support to flourish.
"That's why we recently launched a growth strategy for Creative and Digital Industries in Lambeth. Central to this is our pioneering approach to supporting local businesses with council-owned affordable workspace, including London'slargest affordable workspace in Brixton. The CEZ designation will allow us to extend this work and widen the benefits for the people of Lambeth.
The Mayor of London, Sadiq Khan, said: "Culture and creativity is vital to the success of our city – it makes the capital a place people want to live, do businesses and visit. But it can be difficult for artists and creativebusinesses to stay in an area as it develops, and that's why it's so important we give the industry the support it needs.
"I've been clear that London is Open for business and the Creative Enterprise Zones will help the capital remain a creative and forward-looking city to do business. These new zones will create much-needed affordable workspace, turningthese areas into creative hubs and providing job and training opportunities that will ensure that the local community benefits from its growth. They will ensure that artists and entrepreneurs, regardless of background, will be given the support they need andbecome our creative leaders of the future."
Michael Smith, Director of Brixton BID, said: "Brixton has long been the home for creative and enterprising businesses. The Brixton BID, in partnership with the Local Authority, is always actively seeking to fund and protectexisting businesses as well as attracting new businesses.
"We are thrilled to secure this investment into Brixton and welcome the benefits that will come — enhancing our lively streets and thriving businesses, celebrating cultural heritage and making Brixton a distinctive London destinationto do business, work, live and visit."