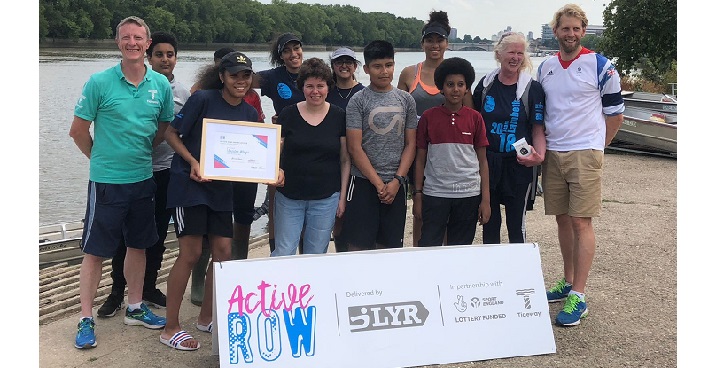 At the end of July, three-time Olympic Champion Andrew Triggs Hodge and MP Susan Elan Jones, Chair of the All Party Parliamentary Group on Charities and Volunteering, presented Brixton Wings with the Active Row Award for Resilience – one of four key values within the Active Row programme – the others being Teamwork, Communication and Inclusion.
Changing ideas
Brixton Wings wants to change the idea that rowing is only for the rich. "A rower doesn't need to be privileged – a rower needs to be resilient, consistent and hard-working" says Medg Sullivan of Brixton Wings, long-term volunteer and Manager of the charity. "Rowing is often presented as an elitist sport. Our mission is to dispel that myth. We're about breaking down barriers to access, to provision, to resources and facilities".  They're based in the heart of Angell Town and take young people from Lambeth estates to the Learn to Row programme with London Youth Rowing (LYR), at the London Regatta centre, in East London. They also run weekly indoor rowing at the Ferndale sports centre in Brixton.
Worthy winners
"Brixton Wings are very deserving of the Resilience Award, they're a tough group who work hard every session," said Tinashe, LYR Community Coach. "It's great seeing students' progress from people who are nervous of boats and water, to people who want to row as much as possible."
Growing through rowing
"I felt so proud of myself and how far I've come. At the beginning I didn't know anything about rowing… if I wasn't rowing now I'd probably be inside watching TV" said Maria from Brixton Wings on receiving the award.
---
For more information
LYR is part of a programme to get over 8,000 young Londoners active through rowing. The Sport and Leisure Team at Lambeth Council support Brixton Wings with a small grant to enable them to participate in extra rowing sessions with LYR.
The Council's Sports & Leisure team and GLL also directly support an Indoor Rowing Club at Ferndale Community Sports Centre.
Wings rowers make up the Team Lambeth squads for on-water and indoor rowing competitions and more, See their information pages.