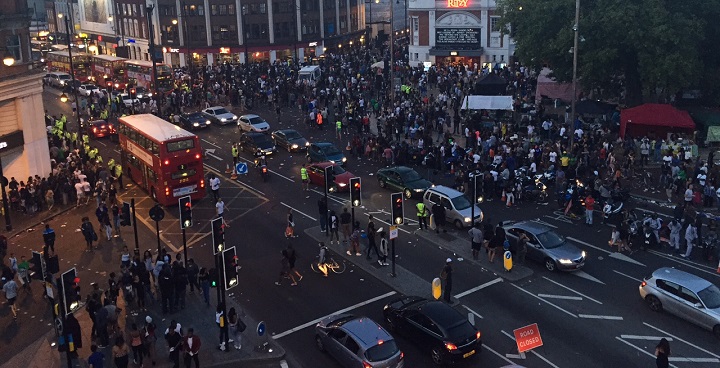 As you know, the Brixton Splash street festival has been an annual fixture since 2006, when it was set up as a community run event, celebrating the cultural diversity and history of Brixton.
It is due to the inspiration and commitment of Pat Clark, former landlord of the Prince Albert pub on Coldharbour Lane, social entrepreneur Ros Griffiths and reggae producer Blacker Dread that Brixton Splash came into being.
We are keen to retain this spirit of community celebration and are heartened by the number of organisations who want to work together to put on another brilliant Splash event.
However for this to work successfully we need at least a year to rethink the event, reach out to new communities to participate and to organise effectively. We are aiming for a Splash event for 2017.
The year break is important because since those early days, Splash has become a victim of its own success with ever increasing numbers coming to Brixton. That has brought it's own problems. Last year, there were a large number of complaints from residents and businesses who expressed concerns that the event was too big, too uncontrolled and the cost of policing and cleaning up were too expensive.
Quite simply, we want Splash to return to its original objectives, to be a safe, community-led event, which is a positive boost for Brixton. As a result Lambeth council, along with partners including police, transport and business have turned down the application for Brixton Splash 2016.
Our objective is to bring back a better, safer organised Splash event in 2017.
We hope you will get involved with plans for 2017 and Brixton Splash can once again be a safe and fun family and community event.
---
The above is signed by:
Lib Peck, Leader of Lambeth Council
Ros Griffiths, Former founder member of Brixton Splash
Be Atwell, Former founder member of Brixton Splash
Ade Sawyer, Equinox Consulting
Tina Jennings, Brixton Night Market
Richard Wood, Borough Commander, MPS
Devon Thomas, Chair, Brixton Neighbourhood Forum & the Black Heritage Group
Paul Reid, Artistic Director of The Black Cultural Archives
Find out more
Read the Brixton splash press release.
The debrief report on Brixton Splash 2015 can also be found on the Event Lambeth website.