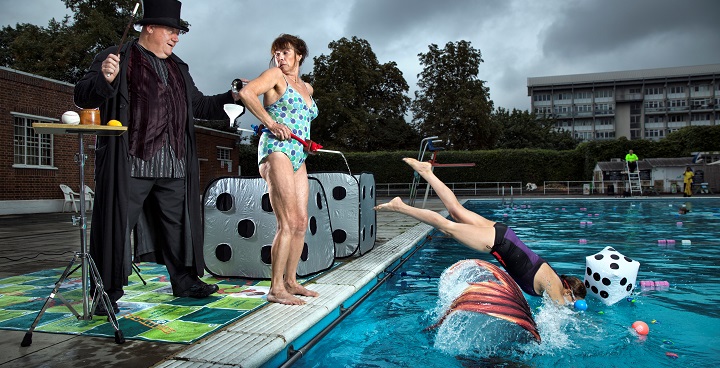 From the energetic to the scientific, the silly to the serious, the Brockwell Lido Fun Palace will have something for everyone.
What are Fun Palaces?
Fun Palaces are about fun and learning, participating and making together: a space where arts and sciences meet. You can make or join a Fun Palace in whatever way best suits your community, with play, experiments, stories and games.
The principles behind Fun Palaces are that it is Free, Local, Innovative, Transformative and Engaging.
There will be well over one hundred Fun Palaces taking place nationwide on the weekend of 4-5 October, for details of other events please visit the Fun Palaces website.
Brockwell Lido Fun Palace
The event takes place at Brockwell Park Lido, from 11am till 6pm on Sunday 5 October 2014.
There will be a wide range of activities happening throughout the day:
swim with mermaids, paddle kayaks or smile for the underwater camera
ride on the miniature railway
play giant games, including dominos, noughts and crosses, draughts and chess
build a giant brain
watch Barrie the Illusioneer
create chalk art
dance with friends
scare yourself silly with spooky stories
test your blood pressure
hear the tree tales and folklore of Brockwell park on a walk
train with Windrush Triathlon Club
challenge yourself with one-word impro
talk to our scientific swimmer
bounce Waboba balls and pick up free balls and T shirts
learn basic sign language (two sessions)
feast with 50% off at the lido cafe's BBQ
The event finishes with a free film viewing at 7.30pm in the Prince Regent pub (fully booked)
Accessible to all
We're really excited that the Brockwell Lido Fun Palace will be accessible to as many people as possible.
British Sign Language – Two BSL signers will be available. They will also be running two 45 minute introduction sessions (one in the morning, one in the afternoon) teaching basic signing.
Audio description on demand – An audio describer who also will be available.
The lido is also completely accessible to those people who use a wheelchair or have limited mobility, the site is all on one level and there is disabled parking available.
Find out more
Visit the Brockwell Lido Fun Palace website for more information and contact details.
Join the Brockwell Lido Fun Palace Facebook group.
Follow Brockwell Lido Fun Palace on Twitter.
Would you like to get involved?
The Fun Palace is completely organised by volunteers, if you would like to get involved it's not too late so please contact us.
We are also currently looking for people to help put up canopies and/or help take them down after the event.
We would love to make this an annual event and are really interested in hearing from anyone in the community who wants to be involved next year too.