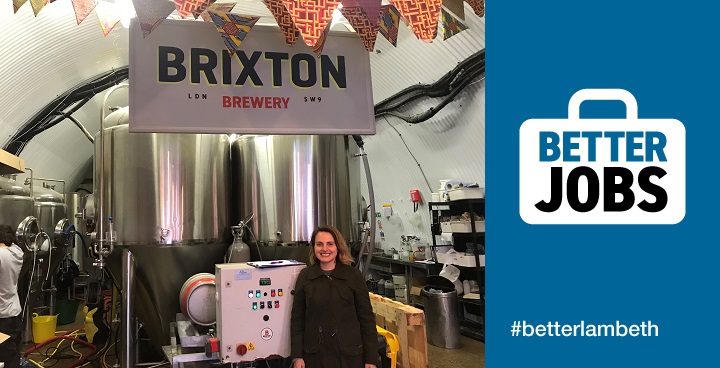 The Brixton Brewery in Brixton Station Road is one of more than 65 London Living Wage accredited employers across Lambeth.
The brewery which takes inspiration from the local area and operates from two railway arches has been a London Living Wage employer since it first opened in 2013.
It has built a big reputation with its range of kegs, casks and bottles with locally referencing names that include the Coldharbour Lager, Effra Ale and the Electric IPA.
Co-founder Xochitl Benjamin said: "We decided to pay the London Living Wage from the beginning, and got accredited in 2014. We were asking to set up in a local area, and asking to be part of the community, so it felt like the natural thing to do. We just went for it.
"I feel strongly that we have been able to retain employees that others have found hard to retain, especially in our taproom. We have staff that stay with us for long periods of time, in an industry where you usually have a high turnover.
"We have only ever had really fantastic people working here, which I don't know is because of the London Living Wage or that we've just been lucky, but we certainly feel that it's an incentive for them and that's also a benefit for us as we don't have to constantly rehire."
Xochitl said getting accredited was an easy process with minimal paperwork, and that the brewery now has 12 employees, including delivery drivers, brewers and taproom staff, who earn the London Living Wage.
Living Wage Week 2017
Lambeth Council is among 3,500 UK organisations now paying the living wage, including 14 other London councils, the Living Wage Foundation have said.
The council is joining others in supporting Living Wage Week 2017 which runs from November 5 to November 11. An event in support of the week will be held at Coin Street Community Centre where business improvement districts, living wage employers and employees and others will discuss and celebrate the rate. For more information about the event email LTaylor5@lambeth.gov.uk.
For more information on becoming an accredited employer visit the London Living Wage website.
The council also supports the Living Wage Friendly Funders scheme which encourages and supporting recipients of grants to pay the Living Wage. The Living Wage Friendly Funder scheme has been funded by People's Health Trust and developed in collaboration with a range of funders including Trust for London, Barrow Cadbury and Comic Relief.