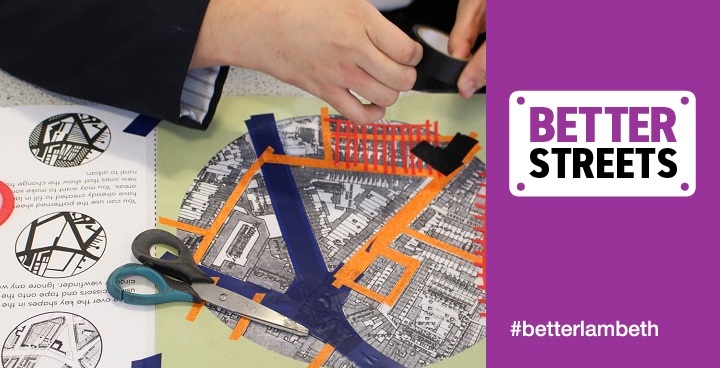 Lambeth Council has worked with pupils at Oasis South Bank Academy and Oasis Joanna Primary school as part of the Westminster Bridge Road Regeneration Project to install new lighting features in the Carlisle Lane railway arch.
'Fantastic project'
Cllr Jennifer Brathwaite, Cabinet Member for Environment & Housing, said: "This is a fantastic project that really emphasises Lambeth's commitment to community engagement, producing something that these young people can be proud of and can be enjoyed by everyone who lives, works or visits Waterloo.
"It's great to get local kids involved in a project like this.  It not only offers them something that is tangible where they can point and say that they played a key part, but also teaches them about the history of their local area."
The decorative lighting project is based on two main elements:
Historical Maps
In our workshop with the year 9 students from Oasis Academy South Bank we took different segments of local historical maps of the area and turned them into abstract, yet discernable geometric patterns.
The final patterns will be projected onto the walls and ceiling of Carlisle Lane tunnel revealing the evolution of the area from rural marshland to bustling urban environment.
Icons of Historical Artefacts
In our workshop with year 4 pupils from Joanna Primary we looked at the same maps and asked the students to identify key features that resonated with them about the area both then and now.  We then helped them to create icons and simple drawings that represent different artefacts and landmarks as paper cut outs.
These two elements have been combined to create an abstract time-line through the tunnel that reveals how the area has changed and celebrates the weird and wonderful pursuits of local people in the area past and present.
This project was made possible with the help of:
Lighting Designers: Michael Grubb Studio
Art Workshops and Design: Make:Good
Contractors:  Bouygues Energy Services, Rosco and FM Conway
If you are around the area and want to see these wonderful pieces of art 'switched on', please come to Carlisle Lane, Tuesday 17th October at 11am.