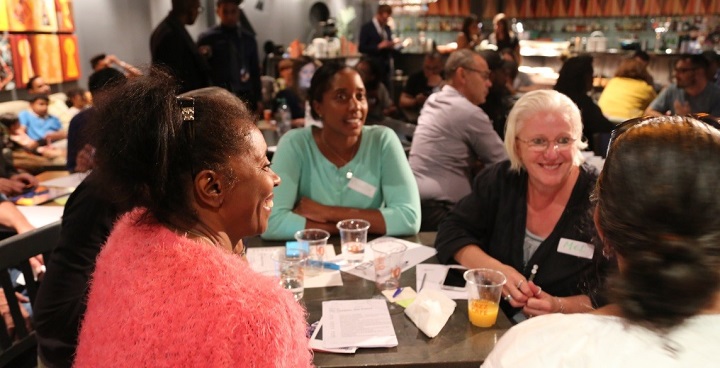 This autumn, Lambeth Council and local partners are set to launch Lambeth's new Children and Young People's Plan. This plan will define our ambition to make Lambeth the best place for children and young people to grow up, setting out the steps we will take to make this happen. We have listened to hundreds of children, young people, families and other community members to develop a shared plan for Lambeth.
Our children, our future event
Lambeth Council teamed up with Lambeth CCG (NHS) and the Black Thrive Partnership (for Black Wellbeing) to host an upbeat, energised and inspiring community event to gather views, ideas and suggestions to forge a bold and ambitious vision for the future of children's services. On Wednesday 12th July, over 75 members of the Lambeth community came together for the 'Our Children, Our Future' event at the Hideaway Jazz Bar in Streatham (pictured). By sharing their ideas for the future of children's services, participants have helped to shape the principles and aims of the plan, including a strong focus on community action. They talked about 70 great ideas, 4 challenging issues, and 10 solutions to drive change. Moving forward, we want to build on all of this energy and enthusiasm to launch a dynamic public campaign.
A dynamic campaign
Lambeth will soon be running an exciting public campaign to involve everyone in offering support and creating opportunities for children and young people in the borough. We want everybody to get involved in helping the next generation – from residents, children, young people and families to businesses and public services. This means you!
Tell us what you think!
This campaign now needs a great name. We have narrowed our ideas down to just a few and want to know what you think. Help us to choose a name by completing our quick questionnaire. This only takes a couple of minutes – have your say by answering the multiple choice questions and tell us what you like about your choice.
Your chance to win the prize draw
As a thank you for your help, you will have the chance to win £30 worth of John Lewis vouchers! To enter the prize draw, simply submit your email address at the end of the survey. The survey closes on Friday 20 October and the lucky winner of the prize draw will be contacted via email by Tuesday 31 October.
---
Find out more
There's a short film on You Tube about the 'Our Children Our Future' event at Streatham Hideaway including some of the outcomes