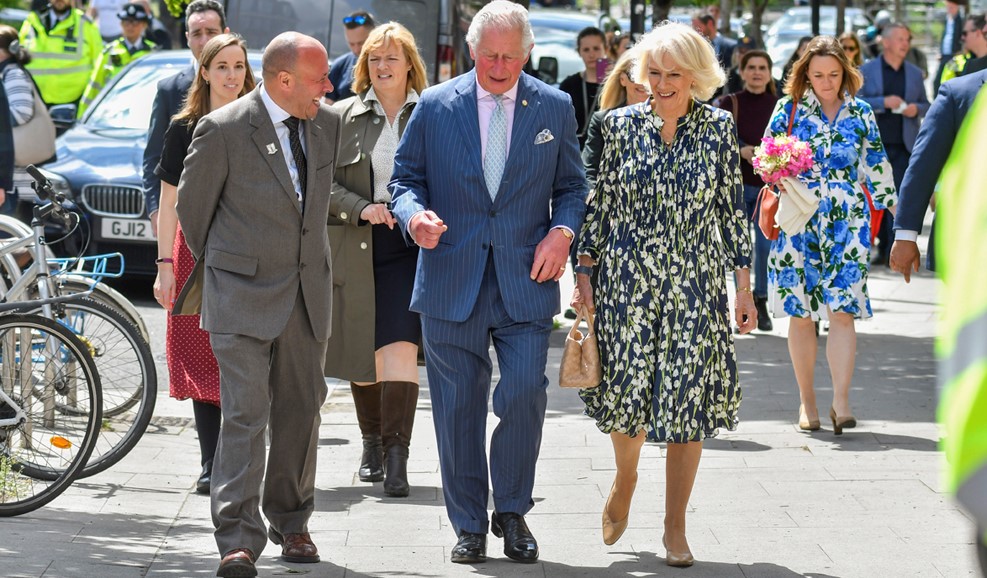 The visit, organised in partnership with Lambeth Council and This is Clapham – the area's Business Improvement District (BID) – first  saw Their Royal Highnesses join an outdoor reception at the Michelin Starred Trinity Restaurant.
The Prince and The Duchess were greeted by guests including members of the Royal Academy of Culinary Arts, apprentices, chefs and trainee chefs. Cllr Annie Gallop, the Mayor of Lambeth also attended.
The reception was held to mark the 40th anniversary of the Royal Academy of Culinary Arts, of which The Prince is a Patron. The Academy is the leading professional membership association of head chefs, head pastry chefs, restaurant managers and suppliers​.
Their visit then saw The Prince of Wales and The Duchess of Cornwall tour local shops with Jeremy Keates, Manager of This is Clapham and Cllr Christopher Wellbelove.
They started outside of the Omnibus Theatre before going on to visit local independent shops and businesses, including Birksen Florist and Prince of Wales Pub where the Prince pulled a pint. They also visited Rex and Wolfe pet shop and the Old Town Traditional Barbers.
Their Royal Highnesses concluded their walk at Clapham Fire Station where they greeted fire fighters and thanked them for their service.
Cllr Wellbelove said: "As a Clapham councillor I was delighted to welcome The Prince of Wales and The Duchess of Cornwall to the Old Town.
"Businesses have really suffered as a result of the need for restrictions to stop the spread of Covid-19. Now that they are able to trade getting a visit from royalty today is a real boost.
"We want our local independent shops to thrive and todays visit really helped highlight what a bright future they have."