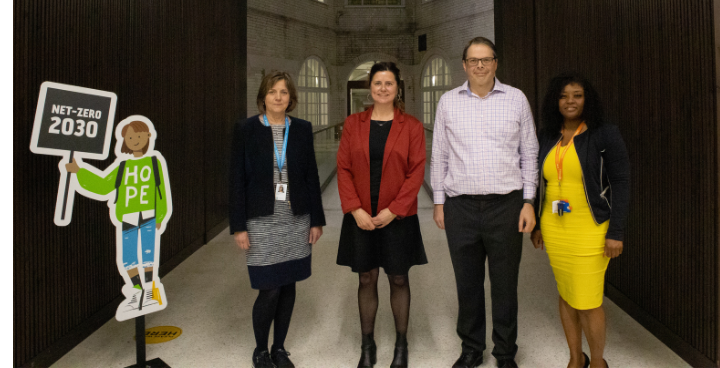 Lambeth has united the borough's most influential public, private, voluntary and community organisations to form the Climate Partnership Group – to help deliver Lambeth's ambitious Climate Action Plan.
This ground-breaking partnership will see many of Lambeth's largest organisations and employers, working together with the council and community organisations to deliver a more just and sustainable future for our borough.
They include Kings College Hospital, LSBU, The National Theatre and Southbank Centre.
These organisations play a crucial role in the daily life of Lambeth and have pledged to commit to delivering the borough's newly adopted Climate Action Plan.
The 11 organisations that signed up to the Climate Partnership Group will collaborate with climate experts, as well as community groups, to implement the Climate Action Plan across adaptation, buildings and energy, transport, waste, consumption and food and biodiversity and environmental quality.
The partnership is the latest collaborative step taken by Lambeth Council as part of its response to the climate crisis.
Kat Thorne, Director of Sustainability at King's College London said:
"It is a joy to see Lambeth's Climate Action Plan come to life following such a collaborative process. Climate action must start with thinking and acting at the local level, addressing climate change from the ground up. The King's Climate Action Network is just one example of how the diverse views of our engaged community are driving positive change at the university level and beyond. As a university, we have an important role to play in climate action not only by taking decisive action to reduce our emissions, but also by engaging with our students, staff, partners, the wider Higher Education sector, and our local communities to maximise the positive change we can have."
Last summer, a diverse group of 47 residents signed up for the borough's first ever Citizen's Assembly on Climate Crisis where they spent six week hearing evidence from climate experts and communities impacted by climate change.
They produced a series of recommendations for Lambeth, which were used to develop the Climate Action Plan.
Word from Lambeth Leader
Lambeth Council leader Cllr Claire Holland said: "This is the first time the leading organisations in Lambeth have united in the fight against the climate crisis and have pledged to take action individually and as a group.
"These are world-renowned organisations which each bring unique knowledge and skills to the table, and so I am incredibly proud they share our vision for the future of Lambeth.
"The council cannot face up to the climate crisis alone; it needs everyone in Lambeth to play its part in delivering this collective plan to tackle the climate emergency here in Lambeth.
"Our residents have told us that they want us to act swiftly but fairly. Now it is up to all of us to deliver.
The full list of organisations involved in the partnership are:
King's College Hospital
King's College London
LSBU Group
Hyde Housing Association
Metropolitan Thames Valley Housing Association
National Theatre
Southbank Centre
Lambeth Schools Partnership
Guy's and St. Thomas' Foundation
Guy's and St. Thomas' NHS Foundation Trust