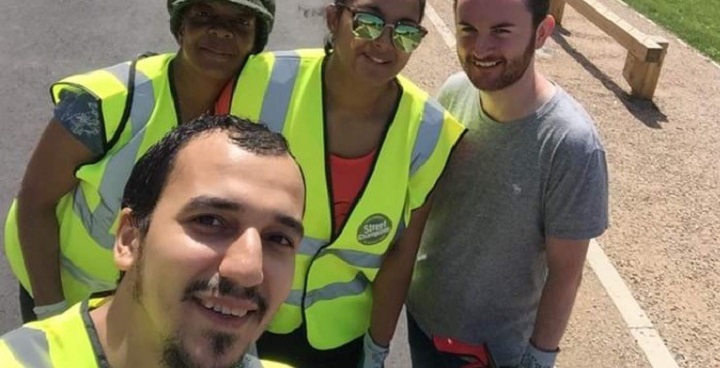 Lambeth, our waste collection partners Veolia, and community-minded residents who volunteer as Street Champions worked together to avoid a 'rubbish crisis' in Myatt's Fields Oval Quarter.
Vehicle breakdown
In early November, Veolia's specialist long-reach rubbish collecting vehicle had to be taken out of service for repairs. The underground bin pods were filled, and rubbish began to pile up. After a few days, neighbouring streets' underground pods were full, too. Residents had nowhere to dispose of their rubbish and some had it mounting up in their homes.
Street Champions volunteer
Residents were so concerned that they called it a 'rubbish crisis' and asked for help. Oval Quarter Street Champions at Myatt's Field North very quickly got together and drew up an action plan. Veolia arranged for a (not so specialised) vehicle to come every day to collect the waste from around the rubbish pods. Volunteers from our Street Champion team went out to help collect rubbish left near the pods and to pick up litter debris off the streets. Estate management partners Pinnacle helped keep the streets clean.
Lambeth put a bin on every street
We requested large paladin bins from Lambeth so that residents could keep disposing of their rubbish until the specialist vehicle was repaired. When these arrived, we helped to inform residents of new rubbish disposal locations. It was great that Lambeth were able to react so quickly to supply the community with a large bin on every street which helped to alleviate the pressure on the rubbish disposal routine.
Back in action
On November 22 the HIAB vehicle came back into action. Residents were overwhelmed with joy. One neighbour said they "never thought they would get this excited to see a rubbish truck".
Community connected
Although the community struggled at first to cope with the disruption, we certainly brought everyone together. It also encouraged more residents to regularly use the rubbish and recycling facilities on the estate properly. It goes to show that if we work together, we can achieve a litter-free community.
For more information
For more details about becoming a Street Champion, the support you can get and the difference you can make see the Council's information pages