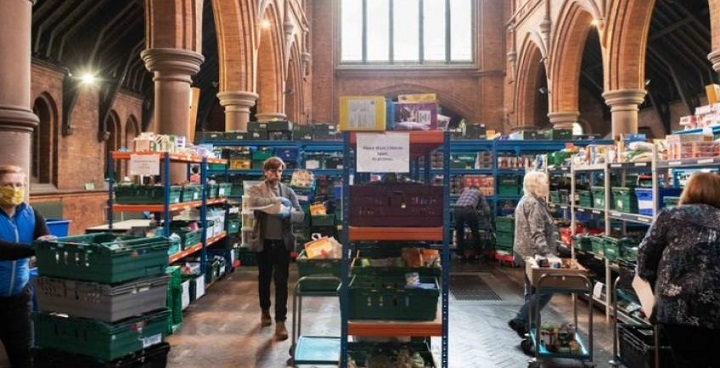 Waterloo Foodbank exists to ensure no one in Waterloo goes hungry. Crowdfund Lambeth helped their Christmas 2022 campaign to reach the target of raising £15,000 to help local people get food and other essentials.
Christmas stress
The cost of living crisis made the Christmas just gone an especially difficult time for many, additional stress piled on top of the daily challenge of trying to get by. The added expense of providing special things for their family, or worse still, not knowing how to provide anything because of soaring energy and food costs.
Word from the Cabinet
 Cllr David Amos, Cabinet Member for Finance and Cost of Living "Lambeth has recently updated our criteria for selecting projects that Crowdfund Lambeth can match fund, and we now welcome approaches from community-led projects that support low-income households who are struggling with fuel, food and living costs".
Thanks to crowdfunders
Rebekah Gibson, Advice Centre Manager at Oasis Hub Waterloo, said: "Thanks to crowdfunders, we were able to provide Christmas food parcels, presents, and blankets to over 3,000 people from 1,030 households. People pledged from £60 – the cost of a Christmas food hamper for a family of four – to £10 to make the hamper special with a gift.
Extra special
"The £5,000 pledge from Crowdfund Lambeth added into the community pledge and meant local households receive extras, such as hot water bottles to keep warm. We met our initial crowdfunding target in 18 days, and our stretch target in 30. Waterloo Foodbank worked with other Lambeth Trussell Trust food banks to deliver these hampers.
"Throughout 2023, we'll continue to offer a mixture of home delivery and collection of food parcels 5 days a week to local households, and the support of those who contributed to the crowdfunder will ensure that we are able to provide this."
More information
Crowdfund Lambeth is a platform to support community projects making our borough a unique place to live, work, learn and do business. The project must demonstrate strong local support shown through a vibrant crowdfunding campaign.
To be considered for match-funding from Lambeth Council, the project must also meet some simple criteria and contribute to one or more of the borough plan priorities:
More about Waterloo Foodbank
For details of help and advice from Lambeth Council and our partners for people facing the cost of living crisis, see Lambeth's community pages with benefits advice, warm spaces, food vouchers, Council Tax support, energy saving tips, help getting into work and more.
Crowdfunder Q&A
Whether you're just starting to think about a campaign or it's already up and running, Crowdfunder Learn with Fife, Lambeth & Hertfordshire: Q&A drop-in session  is the place to get answers to your questions. Join the free online session on Tuesday 14 February at 10:00 and get started and give your idea an extra funding boost.  For more details and to sign up