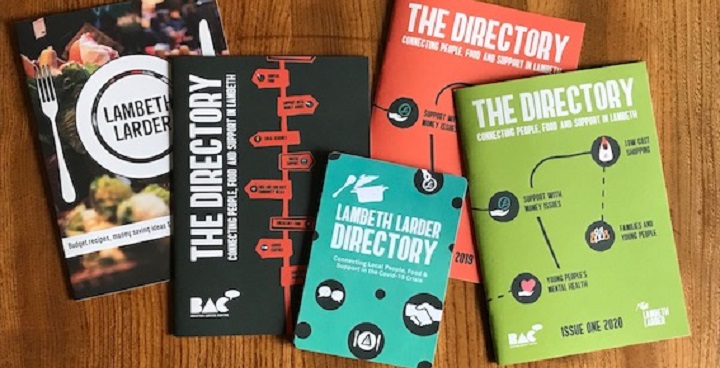 Crowdfund Lambeth has matched community donations to Lambeth Larder with a pledge of £5,000 – half the total target asked for supporting local people in financial crisis.
Crucial connections
Lambeth Larder has helped local people stay connected to crucial services  – emergency food, advice, and other support –  throughout the pandemic. Their new website, and online Covid-19 Response Map list over 200 local organisations for support with food, fuel, advice, mental health, and more. 10,000, free, paper directories were printed for people who are not online and distributed via GP surgeries, Children's Centres, and food banks.
The impact of Covid-19
Covid-19 restrictions may be easing, but many still face insecure work, reduced income, and the ongoing threat of illness. The situation forces people to choose 'eating or heating'. Even before Covid-19, around 30% of Lambeth residents lived in poverty after housing costs, with 36% of Lambeth children (31% nationally) in food poverty. Over the next year, Lambeth Larder aim to reach at least 15,000 people in financial crisis locally.
Heroic work
Lambeth Council nominated Lambeth Larder for BBC Radio London's 'Make A Difference Hero' campaign during the pandemic. But without funds, there's a real chance Lambeth Larder won't be here within months. They set out to raise £10,000 – and beat their target in 29 days with 110 supporters – including the Crowdfund Lambeth contribution. Pledging £20 and over earned a Lambeth Larder cotton tote bag to spread the word about the campaign. Virginia Nimarkoh of Lambeth Larder said: "It's been so heartening to receive this support from our community, especially during the pandemic. Every donation has meant something, whatever the size. It's shows us that local people value our work and believe in what we're doing. That means a lot to us."
Genuine care
Supporters Rastafari Movement UK Wellbeing & Food called it: "A project that genuinely cares. Lambeth Larder makes a genuine impact on the lives of many who need that extra support."
More information
To donate to Lambeth Larder's fundraiser, see their Crowdfunder campaign page
Crowdfund Lambeth is a platform to support community projects making our borough a unique place to live, work, learn and do business. The project must demonstrate strong local support shown through a vibrant crowdfunding campaign. To be considered for match-funding from Lambeth Council, the project must also meet some simple criteria and contribute to one or more of the borough plan priorities:
Sustainable growth: a growing economy that everyone benefits from.
Resilient communities: communities that are thriving and connected.
Promote care and independence: people have support to live well and independently.
Place: Make Lambeth a place people want to live, work and invest.
To find out if your project or initiative is eligible for match-funding see our criteria and apply online