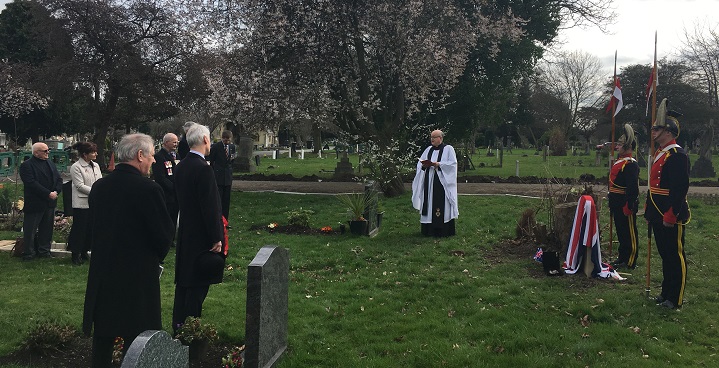 A service was held last week for a distinguished war hero and recipient of the Victoria Cross (VC) buried in Lambeth Cemetery, following an appeal to raise funds for an official Victoria Cross gravestone to mark his grave.
The dedication service was led by Major Graham Collingwood, the Padre of the Royal Lancers, and was attended by family members from across the UK and from as far as Australia, with members of the Royal Lancers also in attendance.
Regiment Sergeant Major (RSM) David Spence of the 9th Queen's Royal Lancers was awarded the Victoria Cross for 'conspicuous gallantry' in 1858 in 'going to the assistance of Private Kidd, who had been wounded, and his horse disabled, and bringing him out from a large number of rebels'. During the rebellion in India at the battle of Shumshabad, Spence got sight of a wounded Private Kidd surrounded by rebel soldiers and at great risk to his own safety, managed to extract his comrade to safety.
After leaving the forces on his own accord, he was appointed to Her Majesty's Bodyguard as a Yeoman of the Guard, and later moved to London, where he died of a heart attack in 1877. He was buried in Lambeth Cemetery, in a grave that until recently was unmarked. Spence's regiments, including the 9th Lancers and Yeomen of the Guard, along with the Victoria Cross Trust in the UK, worked with family members to install the official VC memorial stone at his grave.
Major Martyn Pocock, Regimental Secretary of the Royal Lancers, said: "The 9th Lancers, the 9th/12th Lancers following their amalgamation, and the Royal Lancers that followed, along with the family have been trying to locate RSM David Spence's grave for decades. As a recipient of the Victoria Cross, it is great that we have been finally able to properly mark the grave of this war hero with a dedicated gravestone."