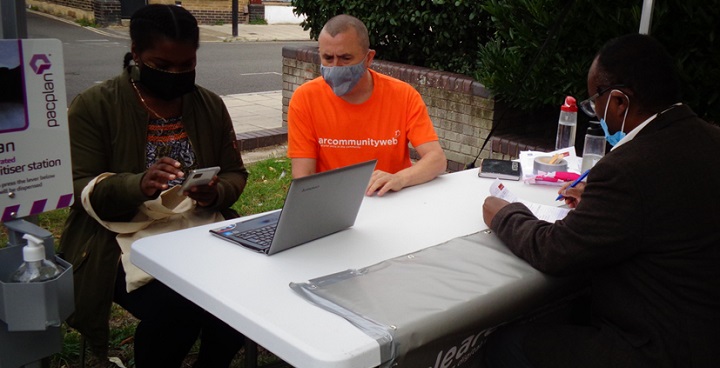 "Lambeth charities like AgeUK have supported people with questions about computers and phones for some time. We quickly learned that digital inclusion is much more – than getting people online: people needed answers about accidentally opening multiple online shopping accounts, or being overcharged for online insurance.
Tea and Tech
"From early 2019 we ran 'Tea and Tech' sessions every 6 to 8 weeks. The first hour was a talk from organisations like the Alzheimers Society or Leonard Cheshire, then 'buddying' sessions on using search engines, comparing energy deals, and 1-2-1 support for people wanting to send their first text or get a cracked phone screen fixed. It was clear quite a lot of people were isolated – elderly or disabled – so we got them there on dial-a-ride.
Helping the helpers
"When lockdown happened, the question of how to help people widened out into how to support other helper organisations? They were moving access to services, training courses, face-to-face sessions, family contacts online. We helped Mosaic Clubhouse set up Zoom meetings. Carers suddenly became IT managers.
Community Tech
"We launched our remote Community Tech Support service for older people, vulnerable adults and carers. Referrals from trusted organisations helped make people secure about us. Some problems can be solved remotely, like reassuring someone how to download an app; others we go through step by step on our own screen. Now, we're starting socially safe doorstep visits. We've focused on Lambeth estates, supported by Homes for Lambeth, Norwood Forum and Brixton Energy.
Big picture
"We're now part of Lambeth's Digital Inclusion steering group. The immediate future almost certainly must include creating opportunities for people to become DBS-checked volunteers or work part-time to help during the coming unemployment crisis. We're right on the border with other boroughs, so reaching out across South London is my 'Big Picture'."
More information
Lambeth's Digital Inclusion Network, established July 2020, brings together more than 20 charities, housing providers, community-led initiatives and Lambeth Council working on tackling Digital Inclusion in Lambeth. The network aims to share learning, connect across initiatives, and grow to ensure that no Lambeth residents are excluded from social, educational and economic opportunities because they lack digital equipment, connectivity, skills or confidence. To join or find out more contact Chloe Bernard-Grahame, Strategy and Partnerships Manager.
Digital Skills For Seniors virtual class restarted in October with a session on the Covid-19 Track and Trace App.