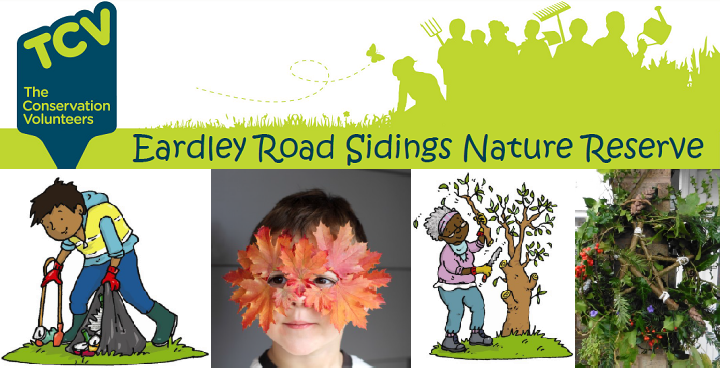 Community Volunteering Day
Saturday 22 October 2016, 10am-2pm
Learn how to look after your woodland and how to use different tools for habitat maintenance. We will build dead hedges and cut back vegetation to keep the sight-lines and paths open. All Materials and tools provided.
Meet us at the entrance at Bates Crescent next to the junction to Braeside Road SW16 5AG
Woodland Ghosts & Fairies
Sunday 30 October 2016, 12pm-3pm
Meet us in the clearing in the middle of the woodland.
Make a spooky woodland ghost or fairy mask with natural materials. Listen to the magical stories sitting next to a roaring fire. We will also toast some marshmallows.
Community Volunteering Day
Sunday 20 November 2016, 10am-2pm
Learn how to look after your woodland and how to use different tools for habitat maintenance. We will build dead hedges and cut back vegetation to keep the sightlines and paths open. All Materials and tools provided.
Meet us at the entrance at Bates Crescent next to the junction to Braeside Road SW16 5AG
Christmas Wreaths & Decorations
Sunday 11 December 2016| 10am-2pm
Meet us in the clearing in the middle of the woodland.
Make a small woodland wreath and festive decorations using natural materials.
Keep warm with a cup of spicy fruit punch sitting next to a roaring fire.
All events are FREE but booking is required.
To book send an email to j.ressler@tcv.org.uk or call 07901 008 316 and let me know that you are attending.
---
TCV NEEDS YOU!
We are looking for local people who love the woodland as much as we do.  We need people to form a community group or friends-of-group that would like to improve this site and care for it in the future. We can support you to get going if you want to make a differ-ence and are keen to help and improve this nature area !
In return we provide
Support with running practical conservation work days during the day, evening or weekend
Building your skills in horticulture or conservation through training and sharing
Support to create a self-sustaining community group
Advice on health & safety, raising funds, or promoting your events
Risk Assessment and tool safety training
Please get in touch if you want to help and get involved!
Find out more
Contact: Judith Ressler TCV Community Outreach Officer
Email: j.ressler@tcv.org.uk
Mobile: 079 01 00 83 16
Find us on Twitter @tcv_EardleyRoad, Facebook or view The Conservation Volunteers website.