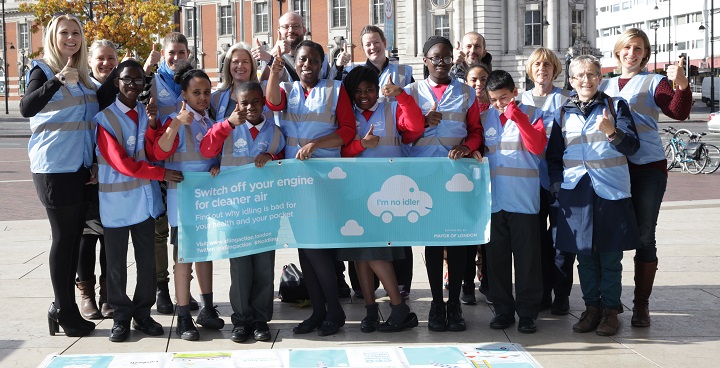 We all know that vehicle pollutants are linked to a range of health conditions, from asthma and bronchitis, to heart disease and cancer – but many motorists still adopt this bad habit of leaving the engine running when stationary.
With funding from the Mayor's Air Quality Fund, twelve councils – including Lambeth – have banded together to encourage drivers to give up their idling habit once and for all – through the power of play.
Councillor Braithwaite, Cabinet Member for Environment and Transport, who has been campaigning to clean up Lambeth's air, said:  "We all have a responsibility to improve air quality in Lambeth. We should all walk and cycle more and avoiding using cars whenever possible. Drivers should be aware of the air pollution they cause when idling and how it affects their health and the health of everyone around, especially children. A simple action such as switching off the engine when waiting to pick someone up or if you're stuck in traffic, can go a long way in helping everyone, including children, to breathe better. "
Lambeth's Vehicle Idling Action was launched by Cllr Brathwaite on Monday in Brixton's Windrush Square. A giant, air quality-themed snakes & ladders board and air quality information stall 'popped-up' in the square, with pupils from St. Helen's RC Primary School in Brixton the first to play. They learned about air pollution, engine idling and the effects they have on their health.
Meanwhile, community volunteers took to the streets to talk to motorists – focusing on idling hot spots, chatting to any drivers who were idling, and rewarding them with a mini version of the game if they switched off and pledged not to idle again.
To encourage the drivers to give up the idling habit for good, they also be gave people some of the eye-opening facts about air pollution, such as the fact that vehicle pollution stunts lung growth in children and causes a range of respiratory disorders.
Vehicle Idling Action events will be running for the next six months. If you are interested in becoming a volunteer and helping to improve your local air quality, you can find out more on the Idling Action website or by emailing info@idlingaction.london.