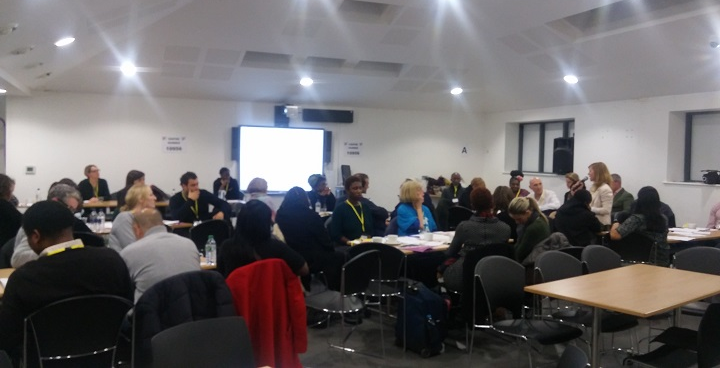 More than 40 Lambeth residents turned up to discuss inequality in education in the borough, at the first evidence-gathering session for the new Lambeth Equality Commission, on Tuesday evening.
The event was the first of four evidence-gathering sessions which will contribute to the work of the commission, set up to identify and tackle the barriers that still prevent many Lambeth residents from fulfilling their potential.
Commission member Cllr Jennifer Brathwaite, who is also Cabinet Member for Environment and Transport, chaired the meeting, at Lambeth College. Cathy Twist, Director, Education, Learning and Skills, gave a presentation on education in Lambeth, highlighting issues including the number of pupils receiving free school meals, and achievement gaps between different groups.
The residents – who had signed up to attend the event via the Council website – and a number of Lambeth councillors split into six groups to discuss the issue of "Tackling inequality in education".  Their discussions centred on seven specific questions:
What do you think are main equality issues relating to education nationally and in Lambeth?
What do you think are the causes of differences in educational outcomes for different groups of pupils?
What are the effects of these different outcomes?
What do you think the council, its partners and the community can do to help reduce these inequalities?
What are the things that make it difficult to reduce differences in outcomes for different groups of pupils?
What three things do you think would have the greatest impact in reducing inequality?
How can you or your organisation help reduce inequalities in our local education system in Lambeth?
All contributions from the groups and individual members were collected at the end of the meeting, and they will be considered by the Commission when it is compiling its final report and recommendations next year. If you'd like to contribute your own thoughts on any or all of the questions, you can send them to equalitycommission@lambeth.gov.uk.
Take part in a future discussion
Three more evidence-gathering sessions will be held in the coming weeks. Further information and registration details are as follows: