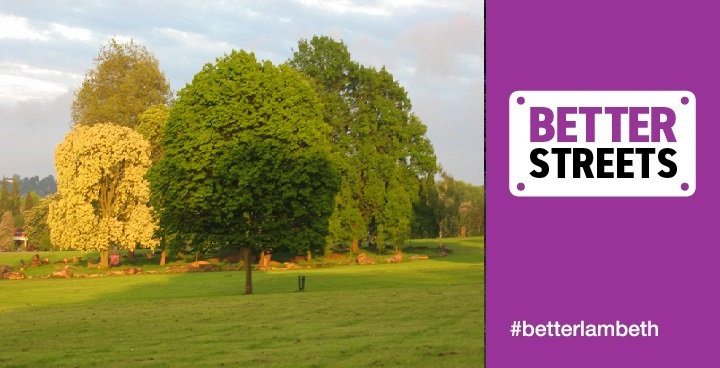 It's storm season and Lambeth Council makes sure fallen trees are cleared from public highways, recycled, and replaced.
Causing an obstruction
If you see a tree down because of high winds, and it seems like an emergency because it's blocking a road or highway, contact Lambeth Council's call centre any time up to 5pm on 0207 926 9000, they will put your call through to one of the Tree Officers in our Parks Team. If it's after 5pm, you can call our 24 hour emergency number on 0207 926 1000. We will  work closely with our tree contractor, the police and Fire services to clear the tree from the road and keep things moving.
What happens to the dead tree?
Where a fallen tree is big, we'll transport the trunk to one of our parks. Tree timber is an important habitat for rare UK wildlife, including stag beetles. Smaller branches are chipped up and used as mulch for our parks or re-used by our contractor.
How do we replace the tree?
Trees in London are an essential environmental asset. The canopy cover of the 'urban forest' provides benefits valued at £132 million such as for how much air pollution it absorbs, how much storm water runoff it reduces and how much carbon it stores. The Mayor of London has advised a target of increasing canopy cover by 5%. This year alone we'll be planting around 500 trees to help with that target.
Right tree, right location
Native species are the most wildlife-friendly – London native trees and wildlife have a relationship going back hundreds of years – but UK trees have been at risk from pests and diseases, and we have to also consider climate change and sustainability. We have to get the right tree in the right location.
---
For more information
For more information about trees in Lambeth, see the Lambeth Council Information pages.
As well as information on how to Report a tree that looks dangerous or has fallen in a Lambeth park or highways, this includes advice on trees in your own garden or on private property. You can find records of all the trees in Lambeth covered by Tree Preservation Orders.